BetSolutions

BetSolutions is a leading provider of comprehensive iGaming solutions, offering a wide range of products and services to online casino operators. With a focus on innovation, reliability, and player satisfaction, BetSolutions delivers cutting-edge gaming platforms,
high-quality casino games, and advanced management tools. By integrating with NuxGame, operators can leverage BetSolutions' robust solutions to enhance their online casino offerings and provide an exceptional gaming experience to their players.
About BetSolutions
Turnkey Solutions
Extensive Game Library
Customization Options
Reliable and Secure
BetSolutions Software Solutions
By integrating with NuxGame, operators can seamlessly integrate BetSolutions' iGaming solutions, including their gaming platforms, casino games, and management tools, into their online casinos.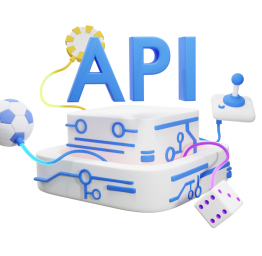 Website API
Integrieren Sie Sport- und Casino-Inhalte in Ihre Website mit unserer skalierbaren und praktischen Lösung
Mehr erfahren
Schlüsselfertige Lösung
Erhalten Sie eine vollwertige Plattform innerhalb von 48 Stunden - nutzen Sie die schlüsselfertige Lösung, um Ihr Geschäft zu erweitern
Mehr erfahren
BetSolutions API Integrations
BetSolutions is a trusted provider of comprehensive iGaming solutions, empowering online casino operators with a wide range of products and services to enhance their gaming platforms. With a strong commitment to innovation, quality, and customer satisfaction, BetSolutions has established itself as a reliable partner in the iGaming industry, offering cutting-edge solutions designed to drive success and profitability for operators.
Gaming Platforms
BetSolutions offers robust and scalable gaming platforms that provide operators with the foundation to launch and manage their online casinos efficiently.
Their platforms are built with advanced technology, ensuring seamless integration, secure transactions, and a user-friendly interface for both operators and players.
Casino Games
BetSolutions boasts an extensive game library, featuring a wide variety of casino games to cater to diverse player preferences.
Their portfolio includes engaging slots, classic table games, and immersive live dealer games, each designed with stunning graphics, captivating themes, and exciting gameplay.
Management Tools
BetSolutions provides operators with advanced management tools to effectively manage their online casinos.
These tools include player management systems, financial reporting, bonus and promotion management, and comprehensive analytics, empowering operators to make data-driven decisions and optimize their operations.
Games Offered
Slots: BetSolutions' slot games offer a thrilling and immersive experience with a wide range of themes, captivating graphics, and innovative bonus features.
Table Games: Their table games collection includes classics such as blackjack, roulette, baccarat, and poker, providing players with a realistic and enjoyable casino experience.
Live Dealer Games: BetSolutions' live dealer games allow players to interact with professional dealers in real-time, bringing the authentic casino atmosphere to the virtual world.