GoldenRace

GoldenRace is a world-famous iGaming provider that specializes in virtual sports. Being founded back in 2006, GoldenRace is known as one of the leading developers of virtual games for online casinos. GoldenRace games are widely praised for
their original gameplay, high-quality 3D graphics, visual style, and realism. The list of most popular GoldenRace virtual games features such titles as Horse Racing, Spin 2 Win, Virtual Football, Motorbike racing, Keno, and many others.
About GoldenRace
Wide choice of international football leagues
Holds multiple prestigious iGaming awards
Secure, high-quality 3D games
Customizable, multilingual software for operating worldwide
Responsive, mobile-friendly gaming content
A global leader in pre-recorded sports betting
Functional back office with reporting tools
Cost-effective solution for your brand
GoldenRace Software Solutions
NuxGame is pleased to provide you with the opportunity to use GoldenRace virtual sports through the following products.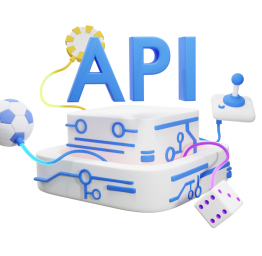 Website API
Integrieren Sie Sport- und Casino-Inhalte in Ihre Website mit unserer skalierbaren und praktischen Lösung
Mehr erfahren
Schlüsselfertige Lösung
Erhalten Sie eine vollwertige Plattform innerhalb von 48 Stunden - nutzen Sie die schlüsselfertige Lösung, um Ihr Geschäft zu erweitern
Mehr erfahren
GoldenRace API Integration
NuxGame unified API integration makes it easy to connect all virtual sports software to any website. Our specialists are always watching for new requests from operators. An experienced technical support team is ready to solve all possible problems and answer even the most difficult questions at any time. Technical support is available 24/7.
Benefits of GoldenRace games integration:
High demand: 400+ operators, 15,000,000+ bids processed daily;
Reliable and experienced partner;
Wide range of content;
All games are licensed and certified;
Exceptional quality of animation and sound;
Full customization: jackpots, planning, odds, etc.;
Business solutions to support growth.
GoldenRace Games
Benefits for players:
Variety of games (including Races, Speedway, Keno), attractive bonuses, popular paid and free game applications;
Possibility of continuous play anywhere – at bookmaker's office or online from home;
Adaptation for the display size.
Spin2Win
The fast-developing modern approach to French roulette with some unique features and frequent winnings attracts players – they highly appreciate this game!
Bet counters show activity in real-time – various modes are available to create excitement and reward players. Main features of Spin2Win – the fast play and frequent wins!
Players can:
Guess the number;
Make odd or even bet;
Guess the color;
Bet on dozen;
Have pleasure from bright, clean and eye-catching visualization;
Use built-in player retention solutions.
Keno
Unlike games with a live dealer, virtual Keno is available to users 24/7. Players can bet on 1 to 10 numbers out of 80 available.
Keno Deluxe
Keno with additional exciting game modes and betting options. It is the most advanced version of Keno. The same game, but different betting options, more modes, more options and more excitement!
24/7;
Circulation history;
Certified lottery machine;
Fixed ratios;
Available for all devices;
Full HD option.
Virtual Football
Virtual football is a simulation of the game based on football's real parameters, but taking place in virtual reality. This sport is costly to maintain and is based on mathematical algorithms embedded in the GoldenRace virtual sports software.
Your players get games of the following football leagues:
Copa Libertadores;
Italia League;
England League;
France League;
SuperEuro League;
Spain League;
Argentina League;
Peru League;
Germany League.
Motorbikes
GoldenRace presents an opportunity to place a virtual bet on the most important events in the world of motorcycle racing. Such an online virtual motorsport totalizator can bring maximum pleasure from contemplating the bright and dynamic struggle of racers for victory.
Speedway
The popularity of betting on races is undeniable – this sport allows the player to taste the maximum drive and adrenaline on the race track. GoldenRace is always ready to offer its clients to become not just an observer, but also one of the participants in this sports competition. It's quite simple – place bets on auto racing and win with a chosen favorite.
Among the speedway bets provided by the GoldenRace the following bets are available:
For the winner.
For the first prize-winners of the competition.
The rider who completes the lap the fastest.
For the rider who will have the highest position in the final.
For the team that will show the best results in the race.
Horse Racing.
This gorgeous virtual 3D racing game captures the imagination with the beautiful realism to simulate real horse racing. The best 3D action and graphics guarantee an identity with real racetrack and horses.
Greyhound Racing
Virtual greyhound racing should be understood as a computer software simulation of racing. The format of such competitions is quite unusual without a real hound. The struggle is at the level of software algorithms. The artificial form of origin did not affect the extreme popularity of this discipline of Internet betting throughout the United States, Great Britain, as well as many other European countries.
The following types of bets are the most popular among virtual horse racing:
Bet on the winner of the race.
Bet on a prize place.
A bet on the determination of the first two finishers.
Tricast rate.