Revolver Gaming

Revolver gaming - a successful slot developer based in London, UK. The company has been on the iGaming market for more than 10 years delivering first-class gaming content. All games by Revolver studio are developed in HTML5 in order to guarantee cross-platform compatibility. Games
by Revolver studio are widely complimented for their graphics, animation, and storylines. The most popular titles developed by Revolver Gaming include Multiplier Man, Reign of Gnomes, Good Fishes, The Big Deal, Parrots of Caribbean, and many others.
About Revolver Gaming
All slots are developed in HTML5
Responsive, mobile-friendly gaming content
Distinctive design and style
Cost-effective solution for your brand
Revolver Gaming Software Solutions
Revolver Gaming casino can be integrated into your platform with Nuxgame solutions.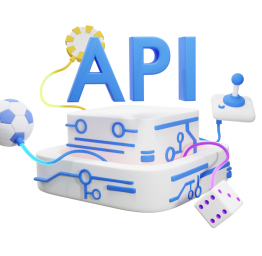 Website API
Integrieren Sie Sport- und Casino-Inhalte in Ihre Website mit unserer skalierbaren und praktischen Lösung
Mehr erfahren
Schlüsselfertige Lösung
Erhalten Sie eine vollwertige Plattform innerhalb von 48 Stunden - nutzen Sie die schlüsselfertige Lösung, um Ihr Geschäft zu erweitern
Mehr erfahren
Revolver Gaming API Integration
Revolver Gaming has a high-tech RGS platform that allows them to create 3D games of the highest quality. Also, they offer operators the possibility to purchase custom video slots. This offer includes the design and development of the game ordered by the client and includes all stages – creation of the concept, mathematical algorithms, and sound, as well as programming – production of a quality video slot.
Focusing on the quality of its products, Revolver Gaming demonstrates a genuine passion for games and a level of creativity that is rare.
Nuxgame will arm your casino platform with Revolver Gaming software via API integration.
Revolver Games
Revolver Gaming's video slots are amazing. They also vary greatly in terms of reels and winning lines. Besides, the gameplay has a large number of additional features, such as payment multipliers, random Wild spins, Free spins, and many other bonuses that make the interface even more exciting.
Revolver Gaming's developers and designers love to use their 3D animation skills to implement their original ideas. The individual slots of the company are developed considering the specifications of the operator and the preferences of the players.
7's Club
This is a vivid representation of a line of classical slots. Each player has played a similar slot at least once. A clear interface, a convenient playing field. Experienced players can tell a lot about hours spent at such a game, share stories about winnings. Revolver Gaming offers 7's Club slots in classical design.
Lotto Lucky
Lotto Lucky is a combination of luck and excitement in a pleasant graphical environment so that players can enjoy it. The game takes place in the clouds with a simple but nice-looking background of the night sky. Instead of reels, the symbols appear in the form of lottery balls that seem to float in the sky. No background music can be heard, just sound effects on the spin of balls and after each win.
Neon Blaze
It is not easy to combine a classical theme with modern graphics, but Neon Blaze does this, and the final result can be called excellent. In the Neon Blaze retro-design, with neon-style symbols, players see the same symbols we used to play in the old slots, but here they look modern. The same is true for the background image, which looks almost like the virtual world of the future from old movies.
Reign Of Gnomes
A stunning three-dimensional graphics embodies the magic slot machine Reign of Gnomes by Revolver Gaming. Beautiful princesses, fiery dragons, brave warriors, and the rulers (king and queen) of this land are represented on 5 colorful reels.
Goodfishes
It is a 5 reel video slot inspired by the cult gangster film by Martin Scorsese (GoodFellas), developed by independent software company Revolver Gaming. As in the famous film, this comical 3D parody slot features gangsters sipping cigars and armed with Tommy-gun weapons; only this time mafioso do their shadowy business underwater - yes, mafioso – fish!
Robin Hood And His Merry Wins
Revolver Gaming used the world-famous Robin Hood story as a source of inspiration to create its 3D slot, where the symbols are Robin Hood himself and his merry company. This video slot promises that if the players help Robin fight off King John and Sheriff of Nottingham, he will ensure that the gamblers receive their fair share of the prize.
Multiplier Man
Multiplier Man is a unique character who, like Batman and Superman, fights crime and helps players win big prizes! The main character of the slot actively strives to make players richer, of course, making their city safer for all. Your clients will be able to immerse themselves in the Multiplier Man universe and fight crime in the name of justice and money.
Pets Payday
Animal lovers from Revolver Gaming Software have released a new slot for online casinos. The landscapes and images are entirely similar to a pet salon or perhaps the house of the ordinary pet owner. Also, the game contains all the attributes that can be expected from video slots intended for animal lovers: many pets and their cute puppies and kittens.