BB Games

BB Games is a software provider that blends innovation and user-friendly products perfectly well. Despite the increasingly competitive market, the company has continued to take giant strides in a bid to carve a niche for itself within the iGaming space. This is evident in
its creations since it was founded in 2018. Now, BB Games Ltd has a few but high-quality content, which are predominantly slot games. Some of the BB Games integration include Martian Miner Infinity Reels, Yin & Yang, Code Breaker Clusters, Wild Mine, and Cube of Fruits.
About BB Games
Unmatched, high-quality, and innovative products
Efficient customer support
Partnership with some of the biggest names in the industry
Exclusive games
Appealing graphics and animations
Mouth-watering bonuses and swift cashouts
BB Games Software Solutions
The BB Games casino can be integrated into your website using the following solutions.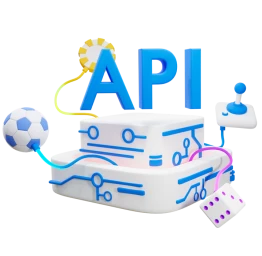 Website API
Integrate sports and casino content into your website using our scalable and practical solution
Learn more
Turnkey
Get a fully-fledged platform within 48 hours - embrace the turnkey solution to start growing your business
Learn more
BB Games API Integration
BB Games API integration grants you access to the beautiful products coming from this provider, both existing and upcoming. More so, with NuxGame, your BB Games API Integration would not be any stressful. It is a direct, fast, and efficient process.
NuxGame offers variety of slot software solutions. This can include BB Games integration. Below are some highlighted values that you stand to gain.
Tons of great games with big rewards,
Swift and instantaneous payment available in all currencies,
Safe games with fair return-to-player rates (RTPs),
Gaming on the go with zero glitches and restrictions,
Calm and interactive website.
BB Games Slots
BB Slot Games are fun to play and quite easy to catch. If you have what it takes to make the odds in your favor, then come do what you love and get massive rewards for it. Here are some most popular slots by BB Games LTD.
Martian Miner Infinity Reels
Released on the 1st of June, 2021, the Martian Infinity Reels slot was developed by BB Games. If you are a huge fan of off-world adventure, drilling expeditions, and hunting treasures, this is your theme game. Its volatility is high with an RTP rate of 96.06. It is compatible with Android, Windows, and all iOS operating systems.
Yin and Yang
Inspired by the famous Chinese philosophy of dualism, Ying & Yang slot is a unique slot developed by BB Games for players' entertainment. It comes with 2-reel sets, both with 3 reels and 3 rows. Besides the aesthetic appeal that comes with the animation and design, another interesting feature of the Yin & Yang slot is the free spins. To trigger a spin, all you need to do is match a number of yin & yang symbols on both sides of the reel set, and boom!
Code Breaker Clusters
Code Breaker Clusters slot is a 5x5 game featuring bonus symbols, wilds, free spins, and a code breaker feature. 10 free spins are triggered when a player lands nine bonus symbols in the middle nine sections of the reel grid. Once a player lands six or more horizontally or vertically connecting symbols, a win is generated and paid automatically.
Wild Mine
When innovation meets aesthetic, the by-product becomes Wild Mine slot. The slot is an innovative game with colorful symbols and multiple bonus features. Its free spins are activated by collecting wild symbols in columns. You can win big at Wild Mine slot by venturing through the quarry and discovering hidden treasures.
Cube Fruits
Cube Fruits slot is one of BB's newest games on the market. Enjoy a colorful and interesting screen time with this classic fruit-themed slot. It consists of three 3x3-reel sets, each with 27 ways to play. Combined, Cube Fruits gives you 81 payline on each spin.