Charismatic Games

Charismatic Games is a leading provider of innovative and captivating casino games, offering a wide range of thrilling titles designed to engage and entertain players. With seamless API integration with NuxGame, operators can easily
incorporate Charismatic Games' exciting games into their iGaming platforms. From immersive slot games to unique table games, Charismatic Games delivers exceptional gaming experiences that keep players coming back for more.
About Charismatic Games
Innovative Game Concepts
Captivating Themes and Graphics
Diverse Game Portfolio
Rewarding Bonus Features
Seamless API Integration
Charismatic Games Software Solution
Integrate Charismatic Games' innovative and captivating casino games seamlessly into your iGaming platform through API integration with NuxGame, enhancing player satisfaction and driving revenue.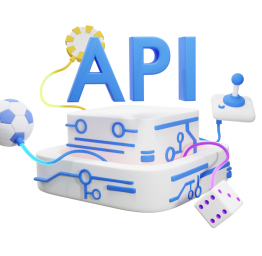 Website API
Integrate sports and casino content into your website using our scalable and practical solution
Learn more
Turnkey
Get a fully-fledged platform within 48 hours - embrace the turnkey solution to start growing your business
Learn more
Charismatic Games API Integration
Welcome to Charismatic Games, a leading provider of innovative and captivating casino games. Explore our diverse portfolio of thrilling titles and discover how seamless API integration with NuxGame can transform your iGaming platform.
Slot Games
Immerse your players in a world of excitement with Charismatic Games' visually stunning slot games. Our titles feature captivating themes, engaging gameplay, and rewarding bonus features to keep players entertained.
Table Games
Experience the thrill of classic table games with a modern twist. Charismatic Games offers a variety of table games, including blackjack, roulette, and poker, delivering a realistic and immersive casino experience.
Progressive Jackpots
Give your players a chance to win big with Charismatic Games' progressive jackpot games. These thrilling titles offer massive prize pools that continue to grow until a lucky player claims the jackpot.
Mobile Gaming
Cater to the increasing number of mobile players with Charismatic Games' mobile-optimized titles. Our games are designed to provide seamless gameplay across various devices, ensuring players can enjoy the excitement anytime, anywhere.