Cogg Studios

Cogg Studios is a dynamic game development studio specializing in creating innovative and engaging casino games. With a passion for creativity and cutting-edge technology, Cogg Studios delivers captivating gaming experiences
that captivate players. By partnering with NuxGame, operators can seamlessly integrate Cogg Studios' high-quality games into their online casinos, providing players with a diverse and thrilling gaming portfolio.
About Cogg Studios
Innovative Game Design
High-Quality Graphics and Animations
Broad Game Selection
Seamless Integration
Cogg Studios Software Solutions
Operators can integrate Cogg Studios' captivating casino games into their online casinos through the seamless integration solutions provided by NuxGame.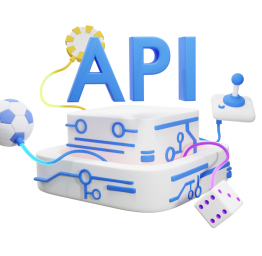 Website API
Integrate sports and casino content into your website using our scalable and practical solution
Learn more
Turnkey
Get a fully-fledged platform within 48 hours - embrace the turnkey solution to start growing your business
Learn more
Cogg Studios API Integration
Cogg Studios is a renowned game development studio that specializes in creating innovative and immersive gaming experiences. With a strong focus on cutting-edge technology and artistic creativity, Cogg Studios delivers high-quality games that captivate players worldwide. Their commitment to excellence and passion for game development has established them as a leading provider in the industry. Cogg Studios offers a diverse portfolio of products that cater to different player preferences, ensuring a thrilling and engaging gaming experience for all.
Products and Solutions
Cogg Studios offers a wide range of products and solutions designed to meet the needs of both operators and players. Let's explore their offerings:
1. Slot Games Cogg Studios excels in creating captivating and visually stunning slot games. With a combination of innovative themes, immersive graphics, and exciting bonus features, their slot games provide an unparalleled entertainment experience. From classic fruit machines to modern video slots, Cogg Studios' collection offers a diverse range of themes and gameplay mechanics to keep players engaged and entertained for hours.
2. Table Games In addition to their impressive slot game collection, Cogg Studios also offers a variety of thrilling table games. Players can enjoy popular classics like blackjack, roulette, baccarat, and poker, all with sleek designs and realistic gameplay. Cogg Studios' table games provide a seamless and immersive experience, replicating the excitement and atmosphere of a real casino.
3. Virtual Sports For those seeking an adrenaline-pumping sports betting experience, Cogg Studios provides a range of virtual sports games. These virtual simulations of popular sports events offer realistic graphics, intuitive controls, and accurate odds. Players can bet on virtual football, basketball, horse racing, and more, enjoying the thrill of sports betting at any time.
4. Lottery Games Cogg Studios' portfolio also includes an exciting selection of lottery games. Players can indulge in the anticipation and excitement of lottery draws, with various themes and gameplay mechanics to choose from. Whether it's scratch cards, bingo-style games, or instant-win lottery games, Cogg Studios' lottery offerings provide endless entertainment and the chance to win big.
5. Customization and Integration Cogg Studios understands the importance of flexibility and customization for operators. They offer solutions that can be tailored to meet specific requirements, ensuring seamless integration with existing platforms. Their games and products are developed using state-of-the-art technology, allowing for easy integration with NuxGame's platform, providing a streamlined and efficient gaming experience for both operators and players.