Evoplay Entertainment
Evoplay is one of the prominent iGaming developers that has been around since 2003. With almost 20 years of experience, Evoplay has managed to create a portfolio of 150+ games, many of which have become players' favorites. Also, Evoplay is one of the first-ever iGaming developers to incorporate VR technology in
slot games. Evoplay gaming portfolio includes a variety of casino genres - classic and modern slots, table games, arcade games, jackpot slots, and even VR games. Some of the most popular games by Evoplay are Star Guardians, Dungeon: Immortal Evil, Nuke World, Treasure Mania, Raccoon Tales, and many others.
About Evoplay Entertainment
150+ original slot games
Distinctive design and style
Develop custom online casino games
Unique game engine
Certified by eCOGRA and Gaming Labs
Holds multiple prestigious iGaming awards
Cutting-edge animation and graphics
Responsive, mobile-friendly gaming content
Evoplay Software Solutions
Due to Nuxgame products, Evoplay slots and other games can be implemented in your casino quickly and easily.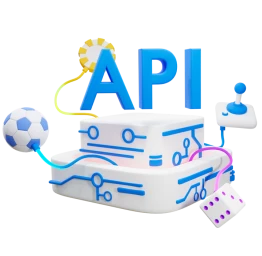 Website API
Integrate sports and casino content into your website using our scalable and practical solution
Learn more
Turnkey
Get a fully-fledged platform within 48 hours - embrace the turnkey solution to start growing your business
Learn more
Evoplay API Integration
Nuxgame is an online casino software provider that, with the use of a simple API can integrate all Evoplay games into your online casino. You will gain access to more than 100 gambling entertainments, including video slots, as well as table and instant-winning games. All Evoplay slots are AAA class, they have beautiful graphics, animated symbols, and original soundtracks to help the player to go deep into the game process.
Six languages are supported;
The license of Curacao;
Wide choice of types of online entertainments;
All software is based on HTML5;
Support of various currencies (crypto ones included).
Evoplay Games
Video slots and other types of online gaming developed by Evoplay Entertainment can brag of an adaptive design, which automatically defines the resolution of the player's device and adapts to it. Thus, all Evoplay casino is available not only on PCs and laptops but also on mobile phones and tablets in ideal quality.
The developer is also proud that all its games are available to players in Full HD. The company's representatives are saying this allows it to make a new standard of the animation and video performance of games. It is easy to agree with them, as the quality and clarity of the image are that which players like the most, so they always should in the first place while developing.
Video Slots
Slot machines are the most popular video entertainment in online casinos. The quality of slot machines made by Evoplay is AAA and they are named as the new standard of online gambling.
Clash of Pirates
Clash of Pirates is a video game based on the motifs of the Hollywood saga Pirates of the Caribbean Sea. The design of Evoplay's slot is full of easter eggs from the movie: a ship of corsairs in the background, doubloons, compasses, captains of pirate ships, and giant octopus on the playing field. The atmosphere of the sea is supported by original triumphant music.
Animal quest
The main theme of this game is the mysterious atmosphere of the world of animals. The animal quest video slot offers several bonus features, among which are Wild and Scatter symbols. Also, the player will have access to bonus games and free spins.
Journey to the West
Journey to the West is a game in the genre of the treasure-hunting journey from the Ukrainian gambling software developer Evoplay. A story is based on a Chinese novel about the pilgrimage of the Buddhist hermit Xuanzang to India, who must bring the sacred books to the goddess Guanyin.
Still, this task is not so easy as on the road the main hero meets various greedy demons and monsters. The mission can be accomplished with the help of the Monkey King Sun Wukong and the pig-man Zhu Bajie, who are the main characters of the slot.
Reign of Dragons
The Reign of Dragons slot (with 5 reels and 20 pay-lines) transfers the player to a unique bright world of majesty and dragons. In the game machine, there are four beautiful women which are avatars of four elements (Earth, Water, Air, and Fire).
A girl in red will wake up in the fire that awakens her dragons to bring additional bonuses. Girl in blue appears on the 5th reel and three reels will be synchronized while spinning. Girl in green will eliminate the green cheap symbols. Girl in gold appears in 1st reel during the bonus round and will lead two of her dragons into the best places of the reel helping the player to win evermore.
More popular games in this category can be integrated into your casino: Fluffy Rangers, Legend of Kaan, Maze: Desire for Power, Elven Princesses, Treasure Mania, Rocket Stars, Temple of Dead, and others.
Instant Games
Games with instant winnings are the simplest of gambling entertainments offered by online casinos, among which are scratch cards, games with a selection of options, mini-games in different styles that bring lots of fun.
High Striker
Instant winning game Evoplay High Striker gives a player the possibility to decide when it's time to take the prize. Due to this only the player chooses how much he wants to win. This game from Evoplay allows receiving winnings even in the event of disconnection or other malfunctions.
Penalty Shoot-out
It is an active gambling game where the player must defeat the goalkeeper, scoring a penalty, and win a prize! The rules of this instant game are easy and understandable to anyone. The player must choose the country for which he will play, place a bet and start the game. The player has the option to choose a specific location where to hit, or believe in a chance and send the ball blindly and receive additional bonuses. Every goal scored also grants a bonus. And a successful series of penalty shots will provide a super bonus.
Scratch Match
Scratch Match is a game of instant lottery in which the player needs to get a golden ticket with the right number. The main rule is simple: scratch the protective surface on the ticket and compare the numbers with the winning table. If at least one number in ticket matches, the player receives a reward. Evoplay Entertainment gives gamblers a chance to win jackpots – they just need to bet on the special lucky number 777!
The bright design, easy rules, and fast gameplay make Evoplay's Scratch Match a favorite fun for all those who love gambling.
Crown & Anchor
The goal of the game is to guess which symbols will fall on the bones. To start playing, the gambler must choose 1, 2, or 3 symbols to bet. Then he should define the denomination of the coins and after this to press the button «Start», and wait for the win. There are 3 bones in the round: in case the signs on them match the chosen ones, a prize is awarded. Its value will be calculated as 1:1, 2:1, or 3:1 for 1, 2, or 3 matching characters proportionally. It is possible to make a separate bet on each of the 3 characters. When several symbols are won simultaneously, the payments are summed up.
Also available for integration are such Evoplay instant games as E.T. Races, Four Aces, and others.
Table Games
Although slot machines are considered the most popular form of casino gambling, it is often said that real gamblers choose offline table games. However, almost all the games you can play offline casinos can be found on the Internet, and enjoy them with the greatest comfort.
Texas Holdem Bonus
Texas Holdem is today considered the most famous poker game in the world. Evoplay Entertainment produced its version of Texas Holdem with pleasant bonuses. Bonus bets have every chance to tickle players' nerves, but also, they are a chance to get a huge payout. The soft colors of the game give a feeling of warmth and relaxation, and the setting is made in the best traditions of Texas. The components of the interface consider the latest trends and are intended to facilitate all actions in the game.
Texas Hold'em Poker 3D
In a new version of 3D Poker that uses cutting-edge technology, players will find themselves at the center of events taking place in the Wild West's unique atmosphere. Combining Vegas-style visual effects with spectacular sound functions, players can immerse themselves in the Holdem atmosphere with the feeling that they are sitting at a real table for western poker playing with a bright virtual character. This is virtual realism at its best form, which gives an entirely new breath to games in online casinos.
Teen Patti
Teen Patti is a Hindu gambling game that translates as «three cards». Evoplay Entertainment allows players to play this legendary game. Aesthetic design, topped with colorful Hindu ornaments, common rules of traditional poker, create a fantastic atmosphere of oriental poker. For Lady Luck's favorites in the game, there is an opportunity to make blind bets to get maximum winnings.
European Roulette
In European Roulette, everything is made in the style of a classical European offline casino: a gambling table, an angle of camera view, and, of course, an animated steering wheel. A player can bet on different places on the playing field. The perfect presence effect is achieved by the fact that the gambling game European Roulette is made the same as the real existing classical analog.
Classics
Almost all developers of the casino software make games in retro classical style. Some of them have modern features and some are extremely similar to traditional slots, and the distinction is contained exclusively in the updated graphics.
Hot Triple Sevens
Lovers of classics will be delighted with this slot machine. In the slot, they can find 5 pay-lines and only 3 reels. Evoplay Entertainment was inspired by classic slot machines from elite casinos in Las Vegas. The generally accepted gameplay is diluted only with free spins and special Fire symbols, which replace identical low-paying Sevens.
Rich Reels
The number of classic slots is great, and due to this, every developer wants to provide fruit-themed products with something that competitors still have not done. You will be able to give your players a classic Rich Reels slot machine and they will stay satisfied for sure. Two Wild symbols at once, which is very rare for such slots, plus a prize round and only 3 reels.
Irish Reels
In almost all Irish-themed slots, a Leprechaun is the main character. At Irish Reels, the Leprechaun gives impressive awards to players. Even with 3 reels and 5 pay lines, gamblers can win the highest prize for just one rotation. With free spins, there is a chance of even more valuable rewards.
Ice Mania
The fruit theme slot that emerges from the 3 reels of the Ice Mania slot machine will give any player a worthy award. To achieve a big win is feasible, as high volatility works and there are no bonuses. The manufacturer made the gameplay extremely simple and intuitive.