HackSaw Gaming

Hacksaw Gaming is one of the newbie software providers known for its captivating HTML5 games. This provider came into the business just a few years ago; however, it's been doing amazingly well, judging by the quality of game products it brings to the table. Hacksaw's gaming portfolio includes video slots, instant win games, and scratch cards. NuxGame,
as a foremost provider of iGaming solutions, can help your online casino business with a perfect hacksaw gaming integration. We offer these services to businesses irrespective of their region or size. Hacksaw gaming itself has representations in over 18 international markets. So, your casino business will no doubt attract players from these markets.
HackSaw advantages
120+ casino games products
Licensed by the Malta Gaming Authority and UKGC
Cool 3D game graphics
Highly rewarding games
Games can be played on multiple platforms
Mobile-compatible games
Games features bonuses like multipliers, re-spins, bonus games, etc
Hacksaw gaming software in products
Our hacksaw gaming casino software integration happens with these products. Give them a read to see the quality of products at our disposal.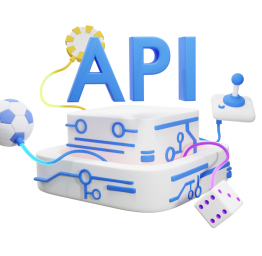 Website API
Integrate sports and casino content into your website using our scalable and practical solution
Learn more
Turnkey
Get a fully-fledged platform within 48 hours - embrace the turnkey solution to start growing your business
Learn more
Hacksaw gaming casino API integration
In simple terms, API integration is like connecting two or more software applications together in such a way that they can interact with one another and transmit data. This is precisely what we do with our Hacksaw gaming API integration. We connect your casino business directly to feed data from the Hacksaw game database. So in real-time, players who come to your casino can play any games by Hacksaw gaming. Even better, once Hacksaw gaming makes any changes or uploads to their game content, your casino also enjoys these updates.
Why an API integration?
You may be asking why a Hacksaw gaming casino API integration is the best way to enjoy the products from Hacksaw. Well, it's the most efficient and modern way. API integration helps modern online businesses to build successfully. To speak to more specifics, here is why a Hacksaw API integration is the right choice for your business
Your casino business enjoys varieties of games: The iGaming industry is saturated with a lot of providers and games content. However, the best way to bring in all of these contents into your casino is via an API integration. So, with hacksaw gaming API integration, you have access to all the video slots, instant win games, and scratchcards from this provider.
It helps your casino business achieve more: With an API integration, so many processes of sourcing for game developers and building game products are cut off from the mix, especially if you are just starting out. API integration is more like enjoying what has been done already. You can cut off some costs and channel the funds into other areas of your business, hence being able to do more.
Your casino business is open to players from various markets: Hacksaw gaming has a presence in more than 18 international markets. What this means for your business if you agree to a hacksaw API integration is that you are exposed to such markets. See it this way. You sell a product from a company that has customers all over the world; where do you think your customers can come from? All over the world! That's the way it also works with API integration of providers with multiple international presences.
Hacksaw gaming studio
Hacksaw games can best be described as a perfect work of game development. First of all, the games are all HTML5 based and so they can be played on any device. These games also have excellent graphics, great sounds, and they feature numerous in-game bonuses. Hacksaw games also have exclusive features that characterize different games in their collection. Examples of these features include 3X3 spins, Duel reels, Switch Spins, Echospins, Stack 'n'Sync, etc.
For your would-be players who will be trying out these games and playing for real money, there is lot to win from hacksaw games. If you are also big on having a diversed portfolio, hacksaw gaming has Instant-win games as well as Scratch cards that you can add to the mix in your existing portfolio.
Here are some game titles from Hacksaw
Alpha Eagle
Hand of Anubis
Warrior ways
Gladiator Legends
Let it Snow
Mystery Motel
The Respinners
Miami Multiplier
Buffalo
Undead Fortune
Wanted: Dead or a Wild
Rocket reels
Mobile gaming
Mobile gaming has gradualy taken over other forms of gaming as the most popular and most frequently adopted. The reason for this is not farfetched. The advanced technology in this age is a great contributor to this trend. Also, mobile gaming is so convenient as it offers players the chance to play anywhere with their mobile devices and an internet connection. It's also very accessible. You don't have to spend thousands of dollars on a console. With just a smartphone, players are good to go. This recent spike in the adoption of mobile gaming has also influenced majority of the game content produced in recent years. Software providers have gone above and beyond to develop games with the best graphics and audios. Even better, new technologies like virtual reality and augmented reality have also been featured in some of these games. These technologies gives gamers an experience that is better felt than read. Hacksaw gaming is not lagging in these developments as well. All of their games are characterized by quality and innovation.
Ready to start?
Ready to give your players some kick-ass gaming experience? Use the form below, and let's get started on how to turn your casino into every player's delight