Leap Gaming
Leap Gaming has top-quality products. Their specialty is mostly pronounced through their clean, high-definition 3D virtual sports games which include dog races, horse races, bike races, and many others. Leap Gaming was founded in 2014, nonetheless, they have released a considerable number of games that are doing well in the market. Plus they have expanded
into new markets in recent years. Leap Gaming is licensed by the MGA, UKGC, and HGC, boasting of game categories that include slots, table games, instant sports, scheduled sports, and lottery games. There couldn't have been a better time to do a Leap Gaming integration as a way to expand the content in your casino business. The benefits are endless.
About Leap Gaming
Stunning 3D virtual sports games among other fantastic game types
Endorsed by the MGA, UKGC, Government of Gibraltar, etc.
Games can be enjoyed on most common browsers
Games can be played on iOS, Android, and Windows devices
Games can be enjoyed in several non-English languages
HD 3D virtual sport games
Leap Gaming Software Solutions
At NuxGame, we have just the best product to bring Leap Gaming products into your space. Check out our Leap Gaming casino solutions.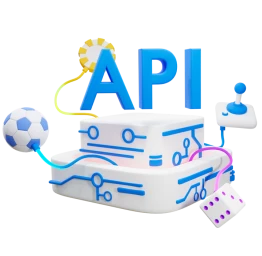 Website API
Integrate sports and casino content into your website using our scalable and practical solution
Learn more
Turnkey
Get a fully-fledged platform within 48 hours - embrace the turnkey solution to start growing your business
Learn more
Leap Gaming API Integration
If you have plans to give your users the chance to enjoy realistic 3D games, here is the chance to do so. A Leap Gaming API integration will settle that once and for all. Plus, this provider is new in the game, and they have a promising future judging by their current works. Imagine what they will create in the coming years.
The process of integration isn't cumbersome, and at NuxGame, we work closely with our clients to factor their requests and specifications into the work with our casino gaming solutions. Note that all Leap Gaming products are HTML5, and they can be played without any hitch.
Leap games
At the moment, there are not so many game titles in Leap Gaming's portfolio, nevertheless, the current 44 games are nothing short of exquisite. From their detailed & flawless graphics to the accurate motion effects, sounds, and in-game features, it's all a pack of top-notch content. Players should expect to cash out and maximize their bet winnings with all the wilds, odds, free spins, high RTPs, and other juicy bonuses from these games. As an operator, Leap Gaming products could expose your casino as the go-to place for virtual sports. Nothing beats the feeling of getting new and active users on your platform.
Instant Sports
Leap Gaming's instant sports lets you jump into action from the get-go. All you have to do is select your desired sports, place bets, and hit start. Leap Gaming's instant sports have ultra-realistic 3D animations and striking graphics. You can also play them on mobile anytime from anywhere. There are 11 games currently in this category, and they include Greyhounds Streak, Horses Streak, Nascar Streak, Football Streak, Euroleague Instant legends, Instant Horses, Instant football, Instant Greyhounds, Instant Speedway, Instant trotting, and Instant Velodrome.
Lottery Games
Lottery games are popular for so many reasons. One, they are easy to play. All you need is to be very lucky such that the numbers drawn by the machine are on your ticket. The lottery games on Leap Gaming are colorful and have fair RNG. There are two games currently in this category.
Lucky X: This game has two RTPs, one for single bets which are 95%, and 90% for the system bets. The minimum bet on this game is 0.1 Euro, while the maximum is 500 Euros. The second title is called Next 6.
Scheduled Sports
Scheduled sports are the opposite of what instant sports are. In this game, you have to follow a timeline of events, for example, a penalty shootout tournament, a football tournament, etc. You can play these scheduled sports games on all browsers and across all platforms. Examples include football penalty duel, virtual football cup, virtual golf, virtual greyhounds, virtual speedway, virtual velodrome, virtual trotting, virtual football, virtual horses, and virtual tennis. These games are also available in different languages. Even better, there are various betting options on the game depending on different events of the game.
Slots
Lead Gaming slots are unique in their themes, they are not the regular slots you are familiar with. You will find all levels of volatilities as you play, with very high RTPs. These video slots are HTML5 based, so you can play them with good graphic resolutions on platforms that are powered by an Android OS, Apple, and windows. If you are not playing on mobile, the games can also be assessed through internet browsers like Chrome, Edge, Firefox, etc. Examples of some interesting slots on Lead gaming are Wild Jokers, C-Punk 5K, Gangstar, Party Fruits, Aztec Stargems, Wild Gods, Santa's Gifts, etc.
Table Games
Give your users a treat of Leap Gaming's 3D table games. You will find games like Baccarat, Roulette, and Blackjack. Just like the classic Blackjack, your players are gunning for the number 21 in the 3D Blackjack. The game's elements are just 3D modeled, both the cards and the chips. That's a good shift from the flat cards we see in regular Blackjack. Other titles available are 3D Baccarat, 300 Carat roulette, and 300 Carat Blackjack.