Mr. Slotty Game Provider

Get access to all the fantastic products from this reputable software provider via the Nuxgame's Mr. Slotty integration. Mr. Slotty is one of the most promising software providers in the gambling
industry. The brand was established in 2013, and has over 50 games to its name. Mr. Slotty prides itself as one provider that offers versatile games with low sizes and a high load speed.
About MrSlotty
Over 50+ fun games are available
Mr. Slotty's games supports all currencies including crypto currencies
HTML5 games compatible with most platforms and browsers
Light games that loads very fast
Various interesting game features
Supports multiple languages
Mr Slotty Software in Products
Check out our Mr. Slotty casino products. These are what we use to integrate the Mr. slotty software into your platform, and turn your business into a sought after Mr Slotty casino. It's games include video slots, megaways, Table games and scratch cards.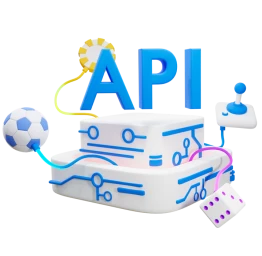 Website API
Integrate sports and casino content into your website using our scalable and practical solution
Learn more
Turnkey
Get a fully-fledged platform within 48 hours - embrace the turnkey solution to start growing your business
Learn more
Mr Slotty API integration
One of the most effective ways to have all of Mr. Slotty's products on your platform are via API integration. With this method, you get to enjoy one of our core services at NuxGame - casino platform services- with which we bring the products of software providers like Mr. Slotty into your casino business. It's all a simple process that is fast and reliable.
MrSlotty Studio Games
One of the striking things about Mr slotty studio games are their appealing graphics, super cool game features and other interesting qualities. If you want to get a dose of how thrilling online casino games can be, then you need to give Mr. Slotty Studio games a try today. More so, the games have several game bonuses that will pull players to your casino and help them land cool winnings each time they play.
Mr. Slotty studio games don't lag, and they don't take up so much space. These games can be played from any device browsers whether it's a smartphone or a personal computer. Although there are not so many games for now, nonetheless, their 50+ games would satisfy any expectations players may have of online casino games.
Video slots
Video slots are one of the best things to happen to online gaming. Reputable software providers like Mr slotty invest a lot of creative inputs to make their video slot products. unique and electrifying. Starting from the looks, video slots have enticing graphics and animations. And when you decide to try out a slot game, it further wins your heart with features like free spins, different themes, bonuses, win ways etc.
Wild Vegas
Wild Vegas is one of the popular slot games from this provider. It's a 5x3 reel game with 15 pay lines. It has a RTP of 91.05% with a lot of in-game bonuses like scatters, wild symbols, and bonus game. There are no free spins in the game however. Wild Vegas would be a great addition to your casino lobby. With its RTP and other game features, players would make consistent cash playing this game.
CryptoMatrix
CryptoMatrix is a crypto coins themed game with a splash of the Matrix movie franchise interface. It has 5 reels, and a RTP of 94.6% with 18 paylines. This video slot game has features like free spins, autoplay, wild symbols, bonus game, scatter symbols etc. Cryptomatix is a HTML5 game, which can be played without needing to download it. You can play it on your mobile phone and computers. CryptoMatrix is rewarding and players would love it, especially players who love the Matrix movie franchise and cryptocurrencies.
Agent X Mission
Agent X has a captivating theme and graphics. It has 3 rows and 5 reels. It has features like free spins, bonus game, wilds and scatter symbols. Agent X mission is a spy theme game with a RTP of 96%. Agent X mission has 40 pay lines with betting range between $001 and $0.50. Agent X Mission will no doubt command a lot of attention from your players. This is one game that you wouldn't regret having in your casino game collection.
HotHoney 22 VIP
This slot game with raunchy graphics is enticing at first look. It's also a great game with 5 reels and three rows. This game has a RTP of 94% with features like wilds, free spins and the rest. The symbols of the game are pictures of tattooed body parts with different wins per combination. HotHoney 22 VIP has a minimum and maximum bet of $0.01 and $25 respectively. The maximum win you can get from this game is to the tune of $3150. HotHoney 22 VIP promises to be all-round fun and rewarding. You shouldn't think twice about getting this game in your lobby.
Jungle Treasure
Jungle Treasure is an adventurous treat into a world beyond the spins. This game has 5 reels, 3de9rows and 30 pay lines. It has a RTP of 94% with features like scatter, wild symbols, free spins, bonus game, auto play, etc. Jungle Treasure is an HTML5 game compatible on mobile and desktop devices. This jungle themed game has breathtaking graphics that keeps you motivated to play day long. Players that enjoy adventure games would love every bit of this game.
Fruits and Diamonds
This video slot game has a RTP of 94% with 4 rows, 55 pay lines and 5 reels. It can be played on all platforms whether on mobile or desktop devices. Fruits and Diamonds offer a free spins up to 18 FS. As obvious from the name, the symbols in this game are fruits and diamonds each giving rewards per winning combination. The maximum bet you can make on the game is 2200 coins which is just betting 40 coins per 55 lines.
Mobile Gaming
Mobile gaming has transformed how players engage online gambling. Thanks to software providers like Mr. Slotty Studio, players can now enjoy their favourite games on the go. Even better, Mr. Slotty's games load very fast and they have low file sizes. Moreover, you don't need to download any games software, as the casino application contains all games from the casino. So whether you are an Android user or iOS, you can play Mr. Slotty's games on your device. Mobile gaming also helps players to stay abreast of bonuses and other promotions from the casino where they play via the use of notifications. Lastly, it's more secure to play on mobile since you are not connecting to any wi-fi network that may be compromised.
Ready to start?
Ready for some fantastic game additions, hit us up right now via the feedback form and let's help you integrate Mr. Slotty studio products.