Onlyplay

Partner with Onlyplay to enhance your iGaming platform. With their innovative solutions, engaging games, and player-centric approach, Onlyplay offers exceptional offerings. Integrate Onlyplay's portfolio seamlessly
through API integration with NuxGame and provide your players with immersive slots, unique gameplay features, and an outstanding gaming experience that will keep them entertained and coming back for more.
About Onlyplay
Innovative Solutions
Engaging Games
Unique Gameplay
Tournaments
Approach Seamless Integration
Onlyplay
Integrate Onlyplay's cutting-edge games and solutions effortlessly into your iGaming platform through API integration with NuxGame.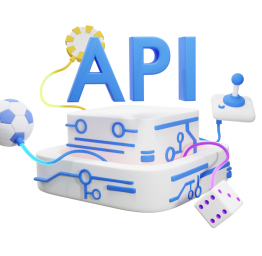 Website API
Integrate sports and casino content into your website using our scalable and practical solution
Learn more
Turnkey
Get a fully-fledged platform within 48 hours - embrace the turnkey solution to start growing your business
Learn more
Onlyplay API Integration
Variety of game mechanics for API Integration:

Infinity play
Unique mechanics developed by Onlyplay with an endless game session where the player can join at any time.make decisions, customize their profile and share emotions with players community.

Crash games
Multiplayer games, where the player can influence the course of the game, make several bets at the same time, collect bonuses and test their courage and intuition! Realistic scenarios, minimalistic design and bright details help focus on the game and get a lot of vivid emotions.

Instant win / fast
The main features of the product line are to win quickly in one or two steps, guess and test your luck. Bright, light, fast decision-making games will satisfy an audience.

Slottery
Trend game solutions, where one line plays. They are easy to play. Additional features, bright graphics and animations make the player's experience unsurpassed.

Classic slots
Classic slots by Onlyplay captivate everyone with their design and animations, which create an unforgettable atmosphere. Slots are developed on popular themes that will not leave anyone indifferent.

Gamification, elements of social gaming, unique features
Progress and Progress Save. A feature that allows players to return to the game, save their progress and benefit from it. For example, in the Lucky Punch game from Onlyplay - the more you play, the higher the level you can get. And the higher the level, the bigger the winnings are possible.
Mini slot. Such additional slots are located above the standard reel. They allow the player to multiply their winnings by 9 times, for example in Hot&Spicy Megaways.
Bonus Buy. Players want to speed up the game process. And our bonus feature allows them to get what they want
Jackpot. This well-known and popular game element can be found in Onlyplay games
Meta games. Vivid visualization that changes with the player's progress. Passing the meta game activates bonus reels and free spin sessions. A great example of meta games can be seen in the Myth of Bastet slot
TNT Booster - a skill-based feature. A unique feature developed by Onlyplay allows players to blow up all symbols on the field and can be activated at the player's request. Fruity Juicy Crush and brilliant Crystal Cascade are already waiting for those who willing to try the skill-based feature
Socialization. Players can personalize their profiles. In Need for X, you can set your nickname and choose your avatar so the gaming community can see the best racers!
Emoji panel. It allows players to express their emotions by clicking on any emoticon that "flies" on the screen, and they can also react back. The panel is implemented in crash games, for example, in the super popular F777 Fighter, which expands its audience.

🎲 Game types: Crash games, Slots, Instant win, Slottery, Infinity play, Probabilistic lottery, Cascade Slots
🗂 Main genres: Sports, Fruits, Joker, Racing, Future, Animals, Classic Slots, Crystals, Dances, Cats, Water World, Ocean, Candies, Clover, Brazil, Sevens, Egypt