SimplePlay

Simpleplay is a recent software provider doing impressive work to ensure that punters have a swell time whenever they play their games. Simpleplay was founded in 2019 by game lovers and seasoned industry professionals who are experienced in the business of software development. In a short time, Simple Play has crawled into the hearts of a lot of punters and established itself as one provider to always look out for. SimplePlay has more video
slots than other game categories in its lobby. Better yet, they have a few fishing games and an e-games lobby that perfectly curates all of SimplePlay's offerings in one place for faster accessibility. A lot of forward-looking casinos have gone ahead to do a Simpleplay integration to provide their users with great games from this software provider prodigy. You can join them today with our fast and professional SimplePlay integration.
About SimplePlay
All games are tested and certified as fair and safe
Endless access to the games through the SimplePlay app
It supports both desktop and mobile play
Over 50 fantastic slot games
SimplePlay Software Solutions
Meet our state-of-the-art SimplePlay software solutions. These are the technologies we use to turn casino lobbies into a 'fun-tastic' SimplePlay casino.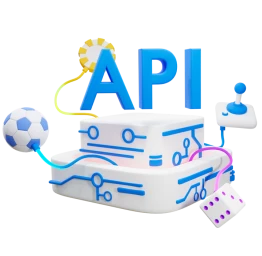 Website API
Integrate sports and casino content into your website using our scalable and practical solution
Learn more
Turnkey
Get a fully-fledged platform within 48 hours - embrace the turnkey solution to start growing your business
Learn more
SimplePlay API Integration
It's amazing how a SimplePlay API integration can improve your casino business and help you pull punters from every corner of the internet. At NuxGame, you will find it very easy working with our experienced and skilled team. We are professionals at offering the best slots casino solutions including that of SimplePlay.
SimplePlay Games
If you check through the SimplePlay catalog of games, they are distinctive first with their eye-pulling graphics. SimplePlay has also developed games that sample a variety of themes, stories, and characters in their collection.
If you take a step further to play any of the games, then you will fall in love with them head over heels. All SimplePlay games have authentic RNG mechanisms so you can give your users the chance to play fair RNG games.
Slot games
SimplePlay has over 50 slot games lined up for the pleasure of your users. All of these games were developed with HTML5, so they can be played anywhere and anytime whether on phones or personal computers. Some of SimplePlay slot games offer multiple winning ways. This means your players can always grab a win through different winning arrangements when they spin the reels. It's also good to note that Simpleplay slots have awesome features that further compound the fun you players will get playing them. Features like free spins, wilds, scatters, and some game-specific features.
Since SimplePlay is a pro-Asian provider, their slot games have language features that cater to the Asian audience. You will find most slots available in English, traditional Chinese, simplified Chinese, Japanese, Vietnamese, Thai, and Indonesian. Here are a few examples of the hottest slot games on SimplePlay:
Golden Legacy,

Candy Witch,

Mother of Dragons,

Guardian of Flame,

Vanessa,

Myth of Phoenix,

Chang Thai,

Three Musketeers,

Bomber Squad,

Mystical Lamp,

Pigsy,

Lucky Fa,

Fortune Cat,

Zombie Hunter.
Fishing games
Fishing games are not what you come across in every casino. SimplePlay has a few entertaining fishing games. These games also permit multiple players to compete with each other. The fishing games have high-definition graphics and cool sound effects, and most importantly, they are rewarding. The SimplePlay fishing games are all certified games tested by the BMM test labs, a renowned games testing company. These games have an HTML5 foundation, which makes them playable on digital devices that support audio and video.
Examples of Fishing games on SimplePlay are:
Fishermen Gold,

Lustrous Ocean.
E-game lobby
SimplePlay E-game lobby acts as the one-stop shop for all of the provider's games. It's easier to use and launch from the SimplePlay's application. Here are some features of the E-game lobby:
Favorite Game: The favorite game feature allows players to be able to keep track and curate games that they enjoy or games that are always a go-to choice for them every time they log into the SimplePlay app.

Ranking: The ranking helps gamers to easily see which games are receiving much attention from other players i.e games giving out huge rewards at the moment.

Screen Rotation: This feature helps players to switch the screen orientation from landscape to portrait or vice versa.

Split mode: The split mode allows players to maximize their screen space and play games on multiple windows at the same time.
The e-game lobby is the central feature of the SimplePlay app. The SimplePlay app allows screen rotation whenever the player wants to switch screen layout. It also launches with just a scan of a QR code. Furthermore, the app has a gesture login feature with which players can set a lock pattern to prevent unpermitted access. This also helps the user to speedily access the app. Lastly, the app is available for both iOS and Android users.