Caleta Gaming

NuxGame offers the integration of Caleta Gaming content into your online casino website. The company was founded back in 2013 and specializes in the development of slot games, bingo, keno, lotto, and scratchcard games. Caleta games have bright, uplifting design
and fast-paced gameplay that makes them perfect for any online casino. The gaming collection by Caleta features some of the notable games as Madame Fortune, Torch of Fire, Catch a Fish Bingo, Alegoria, Astro Wild, Pirates of Fortune, and many others.
About Caleta Gaming
Multiple casino genres: slots, bingo, keno, lotto, scratch cards
Cost-effective solution for your brand
Regular software updates
Distinctive design and style
Caleta Software Solutions
With the help of our solutions, you can implement games of Caleta casino quickly and conveniently.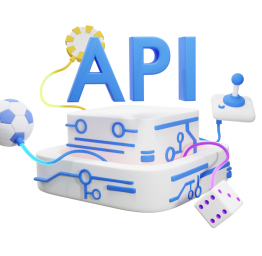 Website API
Spor ve casino içeriğini ölçeklenebilir ve pratik çözümümüz kullanarak web sitenize entegre edin
Daha fazla öğrenin
Anahtar teslim
48 saat içinde tam teşekküllü bir platforma sahip olun - işletmenizi büyütmeye başlamak için anahtar teslimi çözümü benimseyin
Daha fazla öğrenin
Caleta Gaming API Integration
Nuxgame is a casino software provider which content consists of a large portfolio of games including Caleta Gaming.
The themes of Caleta games are diverse, though very familiar. There seems to be a place for every genre of all common slot machines. It looks like Caleta Gaming prefers to stay safe when it comes to slot machine games. There are no original or innovative features here, but Caleta's team does well in an entertaining and attractive graphic design. Caleta Gaming games are fun-oriented and already have great success with fans.
In general, Caleta Gaming pursues a rather bold strategy and implements it step by step. The developer produces a nice selection and a lot of exciting themes of online gambling games.
Caleta Games
Caleta Gaming casino software is armed with a wide range of features and options for bonus games. Players may use such features as Wild reels, Sticky Wild symbols, Multipliers, Rotating reels, and progressive multipliers and these are only a small part of all features.
Besides, most Caleta Gaming slot machines offer bonus games and gambling entertainment. A popular bonus as Free spins can be found in the vast majority of developer's games. Regardless of whether the player is a person who likes high volatility fluctuations or prefers a regularity with low volatility, he will certainly enjoy the potential profits of Caleta Gaming.
All Caleta's software is designed for use on any OS and web browser and is optimized for mobile devices as well as tablets and desktops. The games can be used for free or for real money.
Slots
Nowadays, online slots are a great opportunity to spend a nice evening and get great opportunities to win money. At the same time, the atmosphere that develops during the game is characterized by a maximum of comfort, since players do not have to leave their home for their hobby.
Viking madness
Viking Madness is a slot machine from Caleta Gaming, which was launched on June 10, 2020, and can be played for free. This super slot takes players back to the Viking Age and offers various ways to run Free spins, Sticky Wild symbols, and Treasure chests with bonuses. Players can participate in the game and win part of the treasures hunted by the Vikings.
Lucky K
Players will be amazed by the mythical Chinese culture in Lucky K, a 3x3 slot game. With each spin, they will see dozens of interesting cultural objects and can try to win oriental gold. The game also has a special bonus wheel used, to sum up, the prizes.
Pick'em Fruits
Never before has it been so profitable to be healthy as with the Pick'em Fruits slot machine. This wonderful classic-style game with two different game modes satisfies players' hunger for vitamins and big prizes. An interesting bonus spins feature with three scatters gives even more fun.
Hungry Chef Pick'em
Thanks to the Hungry Chef Pick'em slot, players have the opportunity to experience the pleasure of playing a video slot while enjoying the cooking. The 5-reel online slot provides such special features as free spins, these spins triggers, and pick-ups. Now each person can play Hungry Chef, which offers money, but no calories! The game is available on mobile (Android or iOS) and PC devices, so players can use it at any time!
Ocean Richies
Players can enjoy the amazing beauty of Ocean Richies 5*3 online slot machines. Mermaids, starfish, and breathtaking underwater species create a special atmosphere.
Caleta Gaming also has in its arsenal the following popular slots:
Hallowinner;
Hurricash;
Frozen Fluffies;
Madame Fortune;
Cruise of Fortune;
Enchanted Cash and others.
Bingo
The Internet brings together players from all over the world and offers bingo fans a convenient, fun, and safe way to enjoy their favorite game at any time. This game comes in a variety of types and sizes, so anyone, from beginners to high rollers, looking for a serious game for large sums can find exactly what they are looking for. And the owners of online casinos have not forgotten what makes bingo a special game – they include live chat and other features that help not to forget the social nature of the game.
Bingo pirate
Players have the opportunity to immerse themselves in the world of treasures and adventures. Based on stories about famous pirates, this game offers many features: additional balls and a bonus treasure island. Players have the opportunity to win some of the treasures hunted by pirates. Players will not be bored when collecting gold coins! All they should do is find a map of the route to the hidden treasure on a secret island somewhere far away.
Banana bingo
As in any common bingo game, players can play here on multiple cards: 30 balls are played from 30 moves – the more cards are used, the higher the probability of getting a bingo. After receiving one of the bonus patterns, the monkey bonus is started, and if he is lucky enough, the player can even hit the jackpot! The game comes with a variety of features: additional balls, jackpots (both common and progressive), and bonus mini-games, so your customers will not be bored. The game can be played on any device.
Bingo Fada da Fortuna
Players can discover the colorful world of Bingo Fada da Fortuna with its stunning forests and enchanting inhabitants. The bonus mini-game allows the gambler to get great prizes. The volatility of Bingo Fada da Fortuna is high, the RTP is 93.45% and the match rate is 0.72. The game has up to 4 cards, 60 pools with balls, 32 balls, and 12 additional balls.
Bingo Betina
The girl named Betina needs to get to the party pretty and on time, and your customers can help her in this amazing bingo game! As she prepares to go to the party, players must choose Betina's necessary beauty items, for example, perfume, lipstick, and a beautiful necklace. The winnings are summed up, the fun is delivered and Bettina is great!
Señorita Calavera
Players need to find protection against cruel spirits with the help of Senorita Calavera in this bright bingo game! They can go the way of the decorated altar in a bonus mini-game to raise the winnings and find additional balls hidden behind the Mexican skulls. "La Dama de la Muerte" will be their guide on this trip and will help you not to miss the chance to win money!
Popular Caleta Gaming bingo slots include:
Bingo Tornado;
Saga Loca;
Señor Taco;
Bingolaço;
Bingo Samba Rio;
Bingo Cientista Doidão and others.
Keno
Keno is the oldest known lottery game, with eighty numbered balls. The more numbers match, the more solid the win is. It is logical to assume that with more of these numbers, the probability of a big win increases.
Banana Keno
In this keno game, a monkey with a banana becomes the player's best friend. The monkey wants to enter the bonus round and spin the wheel there, and while the player enjoys the winnings multiplier, the monkey will eat a banana! In this game, players can win a portion of the monkey's banana treasures. The game is available on mobile and desktop devices, so players can enjoy it anywhere.
Magical keno game
As with any RNG game, Keno is very popular due to its very simple rules. With simple luck and a careful attitude towards winning chances, every player can get the chance to win a gamble. The magic of winning is always in Magical Keno, and the game is available on all devices in Full HD.
Jungle Keno
Your customers will go crazy with this keno game. The action goes in a green, beautiful jungle, and this keno is unlike any other filled with bonus games to boost winnings! The world of wealth simply takes the player into a jungle of extreme prizes! All they have to do is to wait for the win!
Lotto
People have always had an inherent passion, which comes out in love with various bets and lotteries. The lottery is a gambling game built on chance and the result cannot be predetermined in advance. Its idea is to make a big profit, and during the process, if the game's numbers match the player's numbers, he becomes the winner and, depending on the number of guessed positions, gets the winning.
Atomico Lotto
Instant winnings on lottery games allow making bets anytime, anywhere. This Atomic Lotto offers all the thrills a player would expect from a lottery game. Bets can be placed both randomly and systematically by observing how atomic balls occupy their positions. Atomic Lotto offers many special features, such as winning for the right order and position, as well as for getting a wild atomic ball. The game has its fully optimized mobile version.