Gamefish Global

Gamefish Global is an iGaming provider known for its fast-paced and bright slot games. Also, their gaming content will be perfect for a mobile-oriented casino. You can test-drive any of Gamefish Global
games right now. All game titles are available in a demo section. Here are some of the top games we recommend starting with: Monkey King vs. Bull Devil, Armor of Courage, Heavenly Quest, Femme Pirate.
About Gamefish Global
Responsive, mobile-friendly gaming content
Multilingual software for worldwide operation
All games are developed in HTML5
Cost-effective solution for your brand
Gamefish Global Software Solutions
Integrate Gamefish casino into your platform through the following products.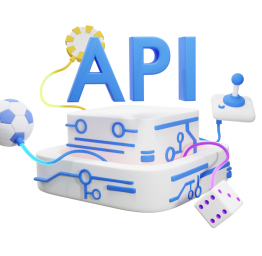 Website API
Spor ve casino içeriğini ölçeklenebilir ve pratik çözümümüz kullanarak web sitenize entegre edin
Daha fazla öğrenin
Anahtar teslim
48 saat içinde tam teşekküllü bir platforma sahip olun - işletmenizi büyütmeye başlamak için anahtar teslimi çözümü benimseyin
Daha fazla öğrenin
Gamefish API Integration
Gamefish API Integration
Nuxgame is an online casino developer that brings to you Gamefish Global, which has a track record of producing industry-leading iGaming technologies.
Gamefish Global's in-house content aggregation platform, GameCast, draws together world-class material from in-house and partner studios, allowing for smooth distribution via a single interface.
GameNet is a proprietary Remote Game Server that enables creating a wide range of complicated game materials on a tried-and-true technological platform.
With gorgeous visuals, compelling sound effects, and unrivalled gameplay, their games are compatible with mobile and desktop.
Gamefish Global Games
Classic table games like dice and card games and online slots and live casino games with Augmented Reality elements are all available through Gamefish Global. There is something for everyone, including the jackpot hunters.
Longgui
Gamefish Global introduces Longgui, a slot game rich in Chinese culture with many chances to win big. To activate the Free Spins feature, you must land at least three Scatter symbols on the reels. Wild symbols can double your winnings by 2x to 30x.
Femme Pirate
Play Femme Pirate to get a piece of the pirate's treasure. There are many riches to uncover on the high waves of this award-filled slot. This 5-reel slot offers a bonus round, bonus spins, and Instant Play features.
Fighting Spirit
Gamefish Global lets you pick your favorite character and play for a high score! You may select which spins to wager on with the last score gained during the feature with each free game trigger. Get a 10x multiplier in five Free Spins, 5x 10 spins or 25 2x spins, and add a 3x multiplier in the mix.
World of Monsters
The World of Monsters is a fun adventure with surprises around every turn. You may pick between 10 and 25 Free Spins during the Free Spin feature, with fewer spins corresponding to a larger Multiplier, possibly reaching 30x.
Armor of Courage
Your favorite character fights to win you the quest for unimaginable wealth and fame in Armour of Courage. The number of Free Spins you earn and the multipliers you gain during the feature are determined by the champion you choose.
Sakurako
Sakurako is a slot machine based on the alluring beauty of a Cherry Blossom Girl. Sakurako by Gamefish Global is guaranteed to delight the players with riches from inside the temple, Free Spins with random multipliers, and the magnificent gardens surrounding the gameplay area.
Nian Wa & Chun Ni
Follow Nian Wa and Chun Ni, two classic characters from Traditional Chinese woodblock prints that were selected as the 2016 Chinese New Year mascots. With delectable cuisine and gold, silver, and bronze wilds that may increase your win by up to 30x during Free Spins, see what great fortune they can bestow upon you.
Secrets of the Ancient Gods
Discover the Ancient Gods' Secrets by spinning this slot. Treasure Scatters will take you to the mysterious Free Spins, where all wins will be multiplied by the number of Wilds in the winning combination. Even if there are no Wilds, the multiplier is still 3x, and each additional Wild increases the multiplier by up to 8x. The Golden Scarabs can activate the Bonus Game, which awards a 300x multiplier for covering the screen with Bonus symbols.
Beauty of the East
Beauty of the East is a slot machine based on an eastern princess's stunning beauty and her magical necklace. The temple vaults are brimming with riches, waiting to be won. This game is guaranteed to delight the gamers.
Heavenly Quest
Heavenly Quest puts a new twist on your favourite characters from a well-known fairy-tale in pursuit of the ultimate reward. Watch as the three stars of Wealth, Prosperity, and Longevity shower you with the riches of life through the Wild Multipliers, which convert into a greater multiplier before a payout.