Mascot Gaming

Mascot Gaming is a leading provider of casino gaming content, offering a wide range of over 35 slot, table, and lottery games, as well as various other types of casino content. Their games are divided into two subtypes: Traffic Games and Profit Games, each catering to different types of players. All
of Mascot Gaming's games are produced in HTML5 technology, ensuring a smooth and seamless playing experience on any device, from desktop to mobile. Their commitment to producing a new game every month guarantees that casino operators will have access to a regularly updated and diverse gaming library.
Mascot Gaming advantages
Over 40+ Games
Production of both online slots and table games
Tournaments & Free rounds
Regular content updates
Multicurrency & Multilanguage
Manage to release 1-2 games every month
Mascot Gaming Software Solutions
The Mascot Gaming online casino software can be integrated on your platform via the following products.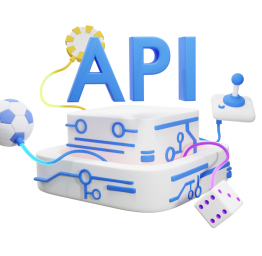 Website API
Spor ve casino içeriğini ölçeklenebilir ve pratik çözümümüz kullanarak web sitenize entegre edin
Daha fazla öğrenin
Anahtar teslim
48 saat içinde tam teşekküllü bir platforma sahip olun - işletmenizi büyütmeye başlamak için anahtar teslimi çözümü benimseyin
Daha fazla öğrenin
Mascot Gaming API Integration
NuxGame offers casino software, live dealer solution and virtual betting solution that includes Mascot Gaming software.
Integrating Mascot Gaming's titles into your casino has never been easier or faster thanks to NuxGame unified API. The integration process can be completed in just a few days, after which you'll gain access to more than 35 games, including video slots, lotteries, and table games. Moreover, Mascot Gaming plans to release at least 12 new titles every year, all of which will be automatically added to your game library through the back office. The company also has four pending prototypes and 30 additional concepts in the works, waiting to be turned into reality.
Mascot Gaming prides itself on using cutting-edge HTML5 technology for all its games. The company releases one new game every month, following a unique game development concept that divides all its titles into two categories: Traffic Games and Profit Games.
Traffic Games are designed to attract new players to online casinos, featuring imaginative storylines, stunning graphics and music, unique features like Risk&Buy, and a high hit rate.
On the other hand, Profit Games are created to maximize player profits. These games are built on familiar game mechanics, allowing players to easily understand the rules and focus on winning big. Profit Games do not overload players with complex or unusual features, offering a comfortable and familiar gaming experience instead.
Mascot Gaming Games
Bastet and the Cats
Bastet and the Cats is a 5-reel, 40-payline slot game set in ancient Egypt with a 95% RTP and low volatility. It features the Risk & Buy feature along with Free Spins and Rockfall Multipliers that can multiply the wins up to 15 times. It was named Slot Game of the Month of June 2021 on the SlotsMate platform.
The Myth
The Myth, a popular slot game from Mascot Gaming, follows a Viking theme with five reels, three rows of symbols, and ten fixed paylines. The game includes scatters and wilds that trigger free spins and bring about substantial payouts for players.
Riot
Riot is a slot game with a dystopian end-of-the-world theme and a unique Risk&Buy feature that delivers excitement, anticipation, and thrill.
Robin of Loxley
Robin of Loxley is a slot game based on the legendary tale of the same name and features two unique mechanics from the developer – Risk & Buy and Click-me.
Queen of Spades
Queen of Spades is a mystic slot game with the popular game mechanic Risk&Buy, which gives players more control over how a slot plays out and sets an opportunity to influence the outcome of each game round.
Three Corsairs
Three Corsairs is a pirate-themed slot game with a Risk & Buy feature that allows players to join the courageous corsairs and start treasure hunting.
Fruit Macau
Fruit Macau is a classic game that pays homage to the luxurious gambling principality and iconic slot theme.
and others.