Mobilots

Mobilots is an iGaming provider designing high-quality content for online casinos of any scale and focus. The company's gaming portfolio features multiple slot games, arcade-type slots, instant sports, and video poker games. Mobilot
games can be reached via the NuxGame Demo version. At NuxGame, you can order some of the best Mobilot titles, including such games as Sushi Swap, Space Pals, Bitcoin Bob, Dragon's Paradise, and many others.
About Mobilots
Original design
Perfect for a mobile-oriented casino
All games are developed in HTML5
Cost-effective solution for your brand
Mobilots Software Solutions
The Mobilots casino can be integrated into your online platform via the products below.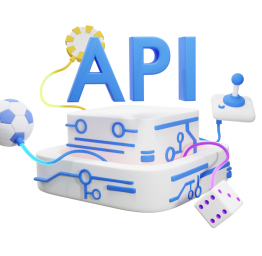 Website API
Spor ve casino içeriğini ölçeklenebilir ve pratik çözümümüz kullanarak web sitenize entegre edin
Daha fazla öğrenin
Anahtar teslim
48 saat içinde tam teşekküllü bir platforma sahip olun - işletmenizi büyütmeye başlamak için anahtar teslimi çözümü benimseyin
Daha fazla öğrenin
Mobilots API Integration
Mobilots API Integration
Mobilots casino games are developed with HTML5. The games are optimized to be played on mobiles, laptops, desktops, and tablets.
Mobilots is a part of the casino gaming platform provided by Nuxgame.
Mobilots has a team of mathematicians, techies, and graphic designers, and executives.
They brainstorm, design, develop, test and retest before their game on the market.
Games include multiple paytables in all formats that can be edited anytime.
Plug and play API design.
Mobilots Games
Mobilots are known for creating mobile responsive games that can increase client's mobile game catalogs.
Mobilots offers a plethora of Mobilots casino games like:
Video slots (Vlad Dracula, warrior Queens, Caesar, Pirates & Plunder, the Heroes, prince charming)
Arcade slots (smiley veggies, sugar & ice, Halloween toons etc.).
Instant sports (soccer leagues: English, Spanish, Italian, Argentina, Turkish).
Videopoker (Jacks or Better, Tens or better, Deuces Wild).
Video Slots
Mobilots is famous for providing a variety of video slot games. Video slot games are slot games that can easily be played without the use of slot machines.
Diamond Bar
It is a 3x5 and 30 lines video slot game. It includes symbols like expanding wild symbols, bonus rounds, and free spins. It can be played in more than 40 languages with more than 40 currencies and cryptocurrencies as well. The game has high volatility.
New Year Fortunes
It is a 3x5 reel, 30 lines, and both ways video slot game. This medium volatility game is fun because of its explosive symbol countdown. Other symbols used in the game include pandas, tigers, and other alphabets. It provides more continuous wins as you play. The game is mobile responsive as well.
Dragon's Paradise
Dragon's Paradise is a 3x5 reel and 30 lines video slot. The main symbols include expanding wild symbols, scatter, bonus, and free spins. The design and graphics of the game are simple yet addicting. The other symbol includes baby dragons, jelly, golden eggs etc. The game has low to medium volatility.
Arcade Slots
Arcade slots have more reels and lines as compared to video slots. Some of the popular Mobilots arcade slots include.
Big Fat Turkey
It is a 5x5 reel grid arcade slot. The main symbols include Session jackpot, jackpot wheel bonus, pumpkin pie, Wild Acorns, and many more. The game provides many different opportunities to win big. The design of the game is intrinsic and addictive.
Ra to Riches
Win the ancient reassures with this 5x5-grid arcade slot game. It features cascading wins and a session jackpot set at $50. The volatility is medium. You need to uncover the ancient Egyptian hieroglyph to uncover the jackpot (on the left side of the screen). You also win a bonus round with a session jackpot.
Rounders
Rounders has a simple design and is a 5x5-grid reel arcade slot. The main features of the game include session jackpot and jackpot bonus round. The symbols include colorful rounder's hidden deep in the Mayan temple. As you become successful in winning the minimum jackpot amount of 50, the session jackpot is activated.
Instant Sports
Instant sports features sports games on Mobilots for those who love to bet, not on their favorite sports.
Premier League
This virtual sports betting game is the best for fans of the English Premier League. Football fans can bet on up to 20 matches and 38 journeys per season. You can even create your own team and have fun. The game is available in two languages: English and Spanish.
La Liga
For the Spanish foot League fans, La Liga, this virtual sports game is the best to put on bets and have fun. You can place bets on up to 20 matches. It is also available in Spanish and English language.
Serie A
Serie A is an Italian football league in Mobilots. This game calls out to the fans of Italian football and place bets on their favorite win. It is available in two languages: English and Spanish.
Liga Argentina
This virtual sports game allows Argentina foot league fans to place bets on their favorite team and players. You can play up to 22 matches. It works on a 100% real stimulator.
Spor Toto Super Lig
Turkish League football game fans can enjoy up to 18 matches and 34 journeys per season through his virtual sports game. It lists all the teams and players and lets you bet with its interactive and clean design interface.