Realtime Gaming

Realtime Gaming (RTG) is a renowned provider of online casino games known for its diverse selection of high-quality slots, table games, and video poker. With a strong reputation for innovation and reliability, RTG offers an extensive library
of games that cater to a wide range of player preferences. By integrating with NuxGame, operators can seamlessly incorporate RTG's games into their platforms, providing players with a thrilling and immersive casino experience.
About Realtime Gaming
Extensive selection of high-quality casino games
Diverse range of themes and gameplay features
Progressive jackpot games with massive winning potential
Mobile-friendly games for on-the-go gaming
Seamless integration with NuxGame for easy implementation
Realtime Gaming Software Solutions
Integrate Realtime Gaming's extensive library of high-quality casino games with NuxGame to enhance your platform.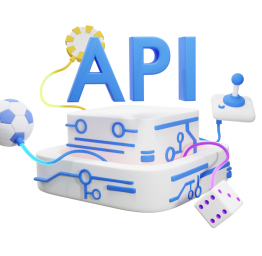 Website API
Spor ve casino içeriğini ölçeklenebilir ve pratik çözümümüz kullanarak web sitenize entegre edin
Daha fazla öğrenin
Anahtar teslim
48 saat içinde tam teşekküllü bir platforma sahip olun - işletmenizi büyütmeye başlamak için anahtar teslimi çözümü benimseyin
Daha fazla öğrenin
Realtime Gaming API Integration
Realtime Gaming (RTG) is a prominent software provider in the online gaming industry, delivering a wide array of high-quality casino games since its establishment in 1998. With a strong focus on innovation, RTG continues to create engaging and immersive gaming experiences that captivate players worldwide. Their games are known for their exceptional graphics, seamless gameplay, and rewarding features, making RTG a trusted choice for both players and operators alike.
Extensive Selection of High-Quality Casino Games
RTG offers a vast collection of casino games, including a diverse range of slots, table games, and video poker. Players can enjoy a wide variety of themes, from classic fruit machines to action-packed adventures, ensuring there's something for every taste and preference. Each game is crafted with attention to detail, providing an engaging and entertaining experience.
Diverse Range of Themes and Gameplay Features
RTG's games encompass a wide range of themes, ensuring players have access to a diverse and exciting gaming experience. Whether players prefer ancient civilizations, fantasy worlds, or thrilling adventures, RTG has a game to cater to their preferences. Additionally, the games feature innovative gameplay features such as bonus rounds, free spins, and unique mechanics to keep players entertained and engaged.
Progressive Jackpot Games
RTG is renowned for its selection of progressive jackpot games, offering players the opportunity to win life-changing sums of money. These games feature accumulating prize pools that can reach substantial amounts, providing an extra layer of excitement and anticipation for players chasing big wins.
Mobile-Friendly Games
RTG recognizes the importance of mobile gaming and ensures that its games are optimized for seamless play on various devices. Whether players prefer to enjoy their favorite games on desktop, tablet, or smartphone, RTG's titles are designed to provide a smooth and immersive gaming experience across all platforms.
Seamless Integration with NuxGame
By integrating RTG's games with NuxGame, operators can easily add RTG's high-quality casino games to their platforms. The integration process is seamless and straightforward, allowing operators to quickly expand their game offerings and provide players with a diverse and thrilling gaming experience.