7Mojos
7Mojos is a leading gaming provider specializing in Live Games and Slots, offering a thrilling and immersive gaming experience. With a focus on innovation and quality, 7Mojos delivers cutting-edge
solutions to operators worldwide. By partnering with NuxGame, their games can be seamlessly integrated into online casinos, providing players with access to their exciting portfolio.
About 7Mojos
Diverse Live Games
High-Quality Streaming
Innovative Slot Games
Seamless Integration
7Mojos Software Solutions
7Mojos seamlessly integrates with NuxGame's platform, enabling operators to access their impressive portfolio of Live Games and Slots, providing an enhanced gaming experience for players.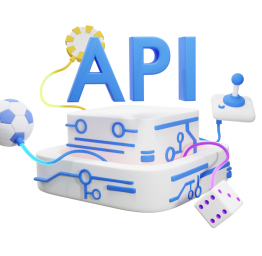 Website API
Integrieren Sie Sport- und Casino-Inhalte in Ihre Website mit unserer skalierbaren und praktischen Lösung
Mehr erfahren
Schlüsselfertige Lösung
Erhalten Sie eine vollwertige Plattform innerhalb von 48 Stunden - nutzen Sie die schlüsselfertige Lösung, um Ihr Geschäft zu erweitern
Mehr erfahren
7Mojos API Integration
7Mojos is a renowned gaming provider known for its expertise in Live Games and Slots. With a strong focus on innovation, quality, and player engagement, they have established themselves as a trusted name in the industry. Powered by a team of talented professionals, 7Mojos strives to deliver exceptional gaming solutions that captivate players and drive success for their operator partners.
Live Games
Experience the thrill of real-time gaming with 7Mojos' Live Games. From classic table games like blackjack, roulette, and baccarat to unique variations and innovative game shows, their Live Games portfolio offers an immersive and authentic casino experience. With professional and friendly dealers, high-quality streaming, and interactive features, players can enjoy the excitement of a land-based casino from the comfort of their own homes.
Classic Table Games: Enjoy popular table games like blackjack, roulette, and baccarat with interactive features and professional dealers.
Innovative Game Shows: Experience unique game show-style live games that combine entertainment and the chance to win big.
Slots
7Mojos' slot games are designed to engage players with captivating themes, impressive visuals, and exciting gameplay mechanics. From traditional fruit slots to adventurous journeys and fantasy worlds, their slot games cater to a wide range of player preferences. With innovative features such as free spins, bonus rounds, and multipliers, 7Mojos' slots provide thrilling opportunities for big wins and immersive entertainment.
Engaging Themes: Discover a wide variety of slot themes, including adventure, mythology, animals, and more, each offering a distinct and immersive experience.
Rewarding Features: Benefit from exciting features such as wilds, scatters, bonus rounds, and progressive jackpots for increased winning potential.
Mobile Compatibility: 7Mojos' slots are fully optimized for mobile devices, allowing players to enjoy their favorite games anytime, anywhere.