Dragoon Soft

Dragoon Soft is a Chinese provider known for its colorful, fast-paced games. Dragoon Soft specializes in three types of games - slots, arcade games, and fishing games. As a software provider, the company offers its clients multiple options: localization for
different currencies, multiple languages of the interface, etc. Here are some of the most successful titles by Dragoon Soft we recommend you to check out: Monkey King, Ladder Game, Stone Hominid, Get High, Doggy Wealth, Bakufu Shogun, and many others.
About Dragoon Soft
RNG-certified games
Cost-effective solution for your brand
Perfect for a mobile-oriented casino
All games are developed in HTML5
Dragoon Soft Software Solutions
You can seamlessly integrate the Dragoon casino into your own platform through various products.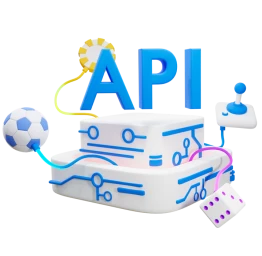 Website API
Integrate sports and casino content into your website using our scalable and practical solution
Learn more
Turnkey
Get a fully-fledged platform within 48 hours - embrace the turnkey solution to start growing your business
Learn more
Dragoon Soft API Integration
Dragoon Soft API Integration
Nuxgame offers casino software for sale, including Dragoon gaming content. Each of the games has been developed with the latest flash technology, and HTML5 is highly popular with players.
Unique fishing, poker, and arcade theme games.
Available in multiple languages and supports multiple currencies.
Licensed and certified by the international authority, Gaming Laboratories International.
Agent BO that provides real-time data and analytics to customers.
Popular games developed for the Asian market.
Highly personalized 24/7 support and services.
Dragoon Soft Games
Games are the virtual brick-and-mortar of an online casino, and every casino owner knows the power of engaging games on their platform. This is exactly why Dragoon Soft specializes in producing highly unique and interactive games for players, with an incredibly smooth interface and unique fishing, poker, and arcade-themed games.
The Dragoon slots are capable of providing your prayers with immense entertainment as well as enticing bonuses. With these games, you can also offer various batting features and options such as max bets, multipliers, and so on!
Fishing
Who on earth doesn't love fishing? Whether it's fishing for actual fishes, for compliments, or in the case of Dragoon Soft, fishing for rewards and prizes! With highly unique gameplay, HD animations, and brilliant sound effects, your players can enjoy a whole slew of fishing games on your platform!
Dino Hunter
Put on your hunting caps, it's time to hunt some dinosaurs! This unique slot game by Dragoon Soft is capable of taking your players right back to the Jurassic Park era as they encounter a number of dinosaurs and dragons on their journey. This innovative slot game allows players to level up and offers exciting features such as the mystical Golden Egg, which can provide a bonus of x388 - x888 to players!
3 Gods Fishing
Go above the clouds to the land of the heavens and give your players a chance to interact with the gods themselves. As players go fishing with gods, kings, and princesses, they are going to encounter a number of unique fishes like the feisty Violet Gourd and the fiery Tai Chi, all of which unlock free bullets and multipliers of 1x to 50x! Who knows, they may even attribute their victories on your platform to divine intervention!
Let's Shoot
There is something so satisfying about going on a cruise and indulging in fishing all day every day. Let's Shoot allows you to do exactly this, whether you wish to visit the Indian Ocean, The Sea of Japan or the Atlantic Ocean! Allow your players to cock their guns and shoot as many fishes as they want in this exciting game. Let's Shoot by Dragoon Soft also incorporates a number of exciting features to increase their chances of winning!
Ocean Lord
With Ocean Lord, you can get each and every player to become the reigning supreme lord of the ocean as they dive deep into the waters. Let them explore several levels of cannons and more than 50 types of fishes on their journey! Low odds, middle odds, and high odds fishes all make an appearance, along with mixed fish plates with multipliers up to x100! Your ocean lords can also conquer Boss fishes, with multipliers of x400, x600, and x1000!
Poker
Poker is definitely one of the most well-loved games across the world, especially for players from Asia. Diversify your platform and bring in players from all over the world with these highly unique poker games on Dragoon Soft. Each with a distinct theme and interactive gameplay interface, these games are sure to capture the sentiments of every player on your platform!
Texas Poker
A highly unique gameplay interface combined with rousing music is some of the main features of this poker game by Dragoon Soft! Give your players an opportunity to head to the Wild West and don the cowboy hat for a day as they try their luck at this thrilling poker game!
Baccarat
Upbeat and funky music add to the gameplay experience as your players get lost in the world on Baccarat. This is a classic game that is loved by players worldwide, which is exactly why YOU need to have this game on your platform! Nothing comes close to a nice classic game of Baccarat for a regular player, and Dragoon Soft helps you take advantage of this with Baccarat!
Blackjack
Blackjack is a classic game that every casino platform must have! This game by Dragoon Soft is highly interactive and has an excellent and seamless interface for players to enjoy this classic with a modern twist. Enrich your gaming portfolio by incorporating Black Jack into your casino and watch new players pour into the platform simply to try this game!
Chinese Poker
With brilliant colors, HD graphics, and ducky animations, this Poker game is definitely a player favorite! A highly thrilling poker game with Chinese-style music and interactive interface, Chinese Poker is sure to suck players in and never let them leave! Allow your players to either engage in a regular match or a speed match game and win big!
Other poker slot games offered by Dragoon Soft include Banker Niu Niu, Red Envelope, Golden Card Dragon & Tiger, Hundred Niu Niu, Win 3 Cards, Two-eight bar, and Three Facecard!
Arcade
Online arcade games help players escape the mundane realities of the world and dive into a highly realistic world of shooters, ladders, fighting games, and more! Give your players the chance to fatten their wallets and satisfy their souls with arcade games by Dragoon Soft!
Ladder Game
This is a supremely fun and cheerful arcade game by Dragoon Soft that takes players back to the time when arcade games were all the rage! An extremely smooth user interface combined with unique arcade music serves to take this game to the next level! Give every player on your platform the opportunity to win big and fall in love with your platform with this unique Ladder game!