OneTouch

OneTouch is an iGaming developer known for its slot games, cluster slots, table games, arcade games, and Live Casino. According to the company's website, unlike many other game providers, OneTouch has always been making an emphasis on mobile players delivering their games foremost for portable devices and smartphones. If you are interested in the
integration of the OneTouch gaming portfolio or separate gaming titles, you can have a closer look at any of them via a NuxGame Platform demo version. If you don't know where to start, we recommend starting from one of the top OneTouch games like Sumo Showdown, The Maiden and the Swordsman, Jewelry Cats, God Hand, Andar Bahar Beats EX, etc.
About OneTouch
Holds an MGA (Malta Gaming Authority) license
Wide choice of casino genres: slots, table games, live dealer, cluster slots, bingo
Perfect for a mobile-oriented casino
All games are developed in HTML5
OneTouch Software Solutions
Integrate the OneTouch casino software into your own platform through Nuxgame solutions.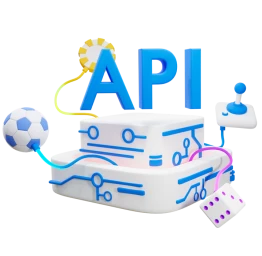 Website API
Integrate sports and casino content into your website using our scalable and practical solution
Learn more
Turnkey
Get a fully-fledged platform within 48 hours - embrace the turnkey solution to start growing your business
Learn more
OneTouch API Integration
Nuxgame is a casino software developer that offers easy integration of OneTouch - one of the best studios in the industry. The games are all designed with flash technology and HTML5 to ensure a smooth and modern experience for players. All games cater to various customer tastes and preferences with several categories created according to the player's needs.
OneTouch specializes in premium mobile casino games.
Excellent gaming experience for players who prefer live casino solutions.
Each game has been specifically designed with a unique theme and gameplay.
Both classic and modern games are available.
OneTouch Games
OneTouch gaming content focuses on providing a memorable gaming experience to players. OneTouch is an industry leader in mobile gaming, and all games have been seamlessly optimized for the mobile. You can offer all sorts of slot games, table games, and live games to your players, as well as various betting options such as max bets, cashouts, and so on. OneTouch also allows you to offer excellent bonuses and promotions to attract new players to your platform.
Slot Games
Slot games are a must in every online casino, and OneTouch provides one of the best gaming experiences to slot lovers. Players on your platform can enjoy several games of chance with excellent graphics and a premium gameplay interface.
Steam Vault
Steam Vault is an all-time player favorite at OneTouch. This unique casino game combines both historical features with science fiction-inspired technological elements - a sure-fire way to draw in steampunk fans on your platform! This game combines classic stepper reels with modern bonuses and features to provide an unforgettable casino experience to your players.
Lucky Lion
Lucky Lion by OneTouch takes place in the Orient and produces an image of the flowing wealth and vast riches of Asia. With this game, you can welcome your players into a whole new world as they step inside a mysterious eastern temple in pursuit of treasure. Players at your casino are going to be awed by the Lucky Lion as they make an attempt to win massive prizes in the far east!
GanBaruto Battle
Sumo wrestling enthusiasts and lovers of Japanese culture are going to fall in love with this slot game. With a unique Japanese-inspired theme, players can enjoy this 5x3 slot game with legendary sumo wrestler Baruto Kaito. Several exciting surprises await each player - with free spins being offered now and then, along with a thrilling wheel bonus!
Table Games
Table games are a classic for every casino. No matter what new games players try, they always come back to the classic table games such as Sic Bo, Dragon Tiger, Blackjack, and more! With OneTouch, you will be able to offer sleek and modern table games to every player on your platform!
Sic Bo
The Sic Bo game by OneTouch is truly the pride and joy of our casino software. This popular table game has been developed with the help of Asia-based game experts and design professionals to create a game that appeals to players from across the globe. Offer your new-age customer the chance to engage in a higher and mobile casino experience with Sic Bo!
Dragon Tiger
This popular Asian card game is loved by players from both the east and the west alike. Dragon Tiger is an epic game between the dealer and the player, offering an incredible number of betting options and side bets to players as they try to decide which animal will emerge victorious. With excellent graphics and authentic sounds, this game is sure how to hook players onto your platform!
Blackjack Classic Perfect Pairs
Who says you can't give your players immersive impressions with an Internet casino? This Classic Blackjack game has been modified for the modern player to offer an excellent on-the-go casino experience. The perfect pairs version of this game allows players to indulge in a side bet with an immediate payout - a feature that Blackjack lovers will highly appreciate!
Live Games
Nothing beats a live experience at an online casino. Live dealer games by OneTouch offer a premium immersive casino experience to everyone who visits your platform. The excitement is palpable, and the air is electric at our live casino, and players will come out richer in experience even if not in wealth!
Blackjack
Blackjack is a classic that most regular players are going to look for in any online casino that they visit. Offer your players the chance to immerse themselves in this popular banking game with professional and live croupiers who make the entire live dealer experience exciting and memorable!
Roulette
Who says you can't enjoy a nice game of Live Roulette from the comfort of your home? Lead your players into the future as they step into your live dealer casino to play one of the most recognizable casino games in the world! Offer them a variety of options to connect to the game - including Android, iOS, Mac, Windows, and HTML5.
Baccarat
Engage your players in a thrilling game of Baccarat in your live casino. In this popular casino game, players must play against the banker to get as close as possible to that magic number - 9. Available in several different languages, this live game is definitely going to be the most famous hit on your platform!