Galaxsys
Partner with Galaxsys and leverage NuxGame integration to access a wide range of engaging skill games and fast-paced gaming solutions. Galaxsys provides innovative and entertaining gaming experiences designed to
captivate players worldwide. By seamlessly integrating with NuxGame, you can enhance your gaming platform with Galaxsys' unique offerings, offering your players an unforgettable and immersive gaming experience.
About Galaxsys
Diverse Portfolio of Skill Games
Fast-Paced and Exciting Gameplay
Engaging and Interactive Gaming Experiences
Multiplayer and Competitive Features
Seamless Integration with NuxGame
Galaxsys Software Solutions
Integrate Galaxsys' skill games and fast-paced gaming solutions seamlessly into your platform using NuxGame's integration services.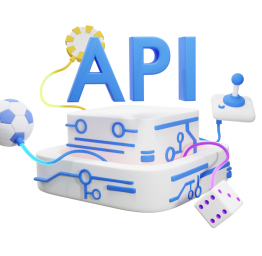 Website API
Spor ve casino içeriğini ölçeklenebilir ve pratik çözümümüz kullanarak web sitenize entegre edin
Daha fazla öğrenin
Anahtar teslim
48 saat içinde tam teşekküllü bir platforma sahip olun - işletmenizi büyütmeye başlamak için anahtar teslimi çözümü benimseyin
Daha fazla öğrenin
Galaxsys API Integration
Galaxsys is a leading provider of innovative and immersive online gaming solutions, known for delivering top-quality experiences to players worldwide. With a strong focus on player engagement and entertainment, Galaxsys offers a diverse portfolio of games that cater to different preferences and skill levels. Let's explore the two main categories of games offered by Galaxsys:
Skill Games
Under the Skill Games category, Galaxsys offers a range of intellectually stimulating and strategic games. These games challenge players to showcase their expertise and decision-making skills. Examples of skill games include classic card games like Poker and Blackjack, as well as brain-teasing puzzles and strategy-based board games. Whether it's outsmarting opponents in a strategic battle or honing critical thinking abilities, Galaxsys skill games provide a rewarding experience for players seeking a mental challenge.
Fast Games
In the Fast Games category, Galaxsys caters to players looking for instant thrills and fast-paced action. These games are designed to provide quick bursts of excitement and deliver instant gratification. Fast Games offered by Galaxsys include high-speed racing games, time-based challenges, and action-packed arcade experiences. Players can immerse themselves in adrenaline-pumping gameplay, where quick reflexes and precise timing are key to success. With vibrant visuals, dynamic gameplay, and competitive elements, Galaxsys fast games offer an exhilarating gaming experience.
With its Skill Games and Fast Games offerings, Galaxsys provides a wide range of gaming solutions to enhance your platform and engage players. Whether it's strategic thinking and decision-making or fast-paced action, Galaxsys ensures that each game is meticulously crafted to deliver an immersive and enjoyable experience. By integrating Galaxsys' games into your platform through NuxGame, you can expand your gaming library and captivate players with high-quality content that caters to their specific preferences.