Lady Luck Games

Lady Luck Games is an innovative provider of online casino games, offering a unique and captivating gaming experience to players. With a focus on high-quality graphics, engaging gameplay, and innovative features, Lady Luck Games delivers a diverse portfolio of
slot games that cater to a wide range of player preferences. By integrating Lady Luck Games with NuxGame, operators can enhance their online casino platforms with exciting and immersive slot games that will keep players entertained and coming back for more.
About Lady Luck Games
Captivating and visually stunning slot games
Unique themes and engaging gameplay mechanics
Innovative features and bonus rounds
Seamless integration with NuxGame
Diverse portfolio of high-quality games
Lady Luck Games Software Solutions
Integrate Lady Luck Games' captivating portfolio of slot games seamlessly with NuxGame.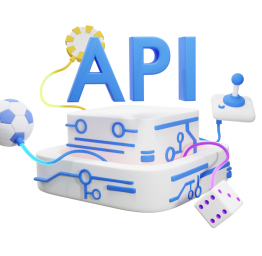 Website API
Spor ve casino içeriğini ölçeklenebilir ve pratik çözümümüz kullanarak web sitenize entegre edin
Daha fazla öğrenin
Anahtar teslim
48 saat içinde tam teşekküllü bir platforma sahip olun - işletmenizi büyütmeye başlamak için anahtar teslimi çözümü benimseyin
Daha fazla öğrenin
Lady Luck Games API Integration
Lady Luck Games is a prominent provider of online casino games known for its innovative approach and captivating slot titles. With a team of experienced professionals, Lady Luck Games focuses on creating visually stunning games with unique themes and engaging gameplay mechanics. The provider's commitment to quality and innovation has earned it a strong reputation in the iGaming industry.
Slot Games
Lady Luck Games offers a diverse portfolio of slot games that cater to various player preferences. Each game is meticulously crafted with attention to detail, featuring high-quality graphics, immersive sound effects, and seamless animations. The provider's slot games are known for their unique themes, ranging from mythology and fantasy to adventure and classic motifs. With innovative features, exciting bonus rounds, and rewarding gameplay, Lady Luck Games' slot titles deliver an immersive and entertaining gaming experience.
Engaging Gameplay
Lady Luck Games prioritizes engaging gameplay mechanics in their slot games. From interactive bonus features to unique reel layouts and innovative symbol combinations, the provider ensures that players are captivated and entertained throughout their gaming sessions. The games are designed to offer a balance between exciting gameplay elements and generous payouts, creating an enjoyable experience for players of all levels.
Seamless Integration
Lady Luck Games' slot games can be seamlessly integrated into online casino platforms through NuxGame. The integration process is straightforward and efficient, allowing operators to quickly enhance their casino offerings with Lady Luck Games' visually stunning and captivating games. The seamless integration ensures a smooth and uninterrupted gaming experience for players while offering operators access to a diverse portfolio of high-quality slot games.