NetGaming

Partner with NetGaming to revolutionize your iGaming platform. With their cutting-edge solutions, diverse game portfolio, and commitment to excellence, NetGaming offers a thrilling gaming experience. Integrate
NetGaming's games seamlessly through API integration with NuxGame and provide your players with immersive slots, unique features, and innovative solutions that will keep them engaged and coming back for more.
About NetGaming
Cutting-edge Solutions
Diverse Game Portfolio
Engaging Features
Seamless Integration
Innovative Solutions
NetGaming Software Solutions
Integrate NetGaming's advanced games effortlessly into your iGaming platform through API integration with NuxGame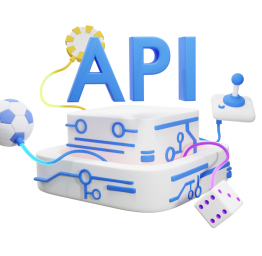 Website API
Spor ve casino içeriğini ölçeklenebilir ve pratik çözümümüz kullanarak web sitenize entegre edin
Daha fazla öğrenin
Anahtar teslim
48 saat içinde tam teşekküllü bir platforma sahip olun - işletmenizi büyütmeye başlamak için anahtar teslimi çözümü benimseyin
Daha fazla öğrenin
NetGaming API Integration
NetGaming is a leading provider in the iGaming industry, known for their innovative solutions and captivating games. With a strong focus on cutting-edge technology and player engagement, NetGaming offers a diverse portfolio of games that cater to various player preferences. By integrating NetGaming's solutions through NuxGame's API, operators can elevate their iGaming platforms and deliver an exceptional and thrilling gaming experience to their players.
Immersive Slots
NetGaming offers a wide range of immersive slots with stunning visuals, captivating themes, and engaging gameplay mechanics. From classic fruit machines to high-action adventures and fantasy worlds, their slots provide players with an immersive and thrilling gaming experience.
Unique Features and Bonus Games
NetGaming's games are packed with unique features, including innovative bonus games, free spins, multipliers, and interactive elements that keep players entertained and engaged. These features add excitement and rewards to the gameplay, creating memorable experiences for the players.
Progressive Jackpots
NetGaming includes progressive jackpot games that offer players the chance to win massive prizes. These jackpots accumulate over time, providing players with thrilling moments and the potential for life-changing wins.
Mobile Optimization
NetGaming understands the importance of mobile gaming. Their games are fully optimized for seamless play across various mobile devices, ensuring that players can enjoy the same level of quality and entertainment on their smartphones and tablets.
Customization and Localization
NetGaming provides customization options and localization services for operators looking to tailor their gaming experience to specific markets. From localized themes and language options to customizable game features, operators can collaborate with NetGaming to create a unique and personalized gaming environment.