In the bustling realm of iGaming, where innovation meets opportunity, SBC Summit Barcelona 2023 emerged as a beacon of excitement and transformative connections. NuxGame, a key player in the industry, not only participated in this dynamic event but took center stage to unveil groundbreaking products poised to reshape the iGaming landscape.
The sheer magnitude of SBC Summit Barcelona 2023 was nothing short of awe-inspiring, with over 15,000 attendees and 350+ exhibitors converging to celebrate the vibrancy and growth of the iGaming sector. The energy was palpable, signaling that the industry is experiencing unprecedented vitality and expansion.
NuxGame seized the opportunity to showcase its latest offerings, embodying a mission to empower iGaming businesses. The event served as a fitting platform to unveil cutting-edge solutions designed to propel the industry forward. With a commitment to excellence and a vision for the future, NuxGame left an indelible mark on the Barcelona stage.
A heartfelt appreciation extends to the captivating city of Barcelona and the dedicated SBC team for orchestrating a memorable event. Their support and enthusiasm played a pivotal role in the success of NuxGame's participation, making the experience even more enriching.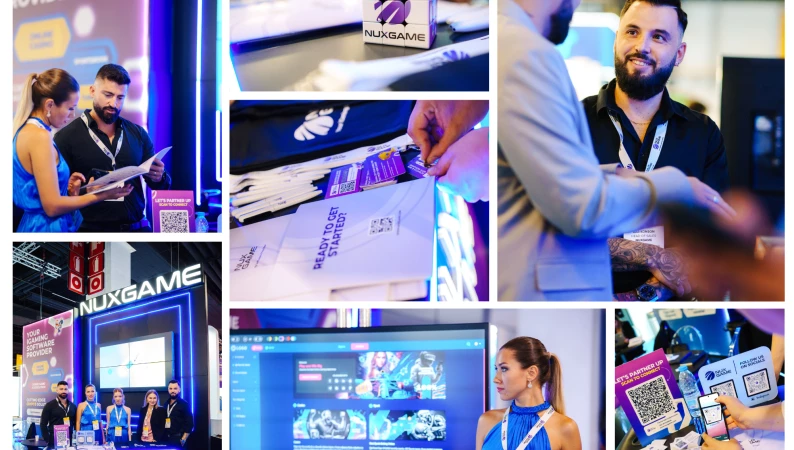 However, the journey doesn't conclude with Barcelona. NuxGame is already gearing up for the next frontier at ICE London 2024, where the team is diligently crafting innovative solutions to further empower iGaming businesses. The anticipation is high, and industry enthusiasts are encouraged to stay tuned for what promises to be another chapter of groundbreaking advancements.
As Barcelona fades into the background, the spotlight now shifts to the enchanting city of Lisbon, the host of the next SBC Summit. The future appears promising, and NuxGame is eager to continue leading the charge in driving innovation within the iGaming world.
To all who joined NuxGame at SBC Summit Barcelona 2023, heartfelt gratitude is extended. The connections made and experiences shared are invaluable, setting the stage for future collaborations. As NuxGame looks forward to the exciting opportunities on the horizon, the collective effort to elevate the iGaming experience remains a shared commitment. Together, the journey continues, and the iGaming community can expect nothing short of excellence from NuxGame.