HoGaming

HoGaming is a Live Dealer Casino provider with more than 15 years of experience in the iGaming sphere. The company offers a high-quality gaming experience, a wide choice of classic table games for casinos, and, of course,
the finest gaming studios for live streaming. HoGaming offers players to try their luck enjoying some of the cult classic table games like blackjack, roulette, baccarat, dragon tiger, sic bo, and many others.
About HoGaming
Professional, multi-lingual dealers
Streaming in HD
Responsive, mobile-friendly gaming content
Cost-effective solution for your brand
HoGaming Software Solutions
With the products offered by Nuxgame, you can integrate HoGaming casino content into your platform.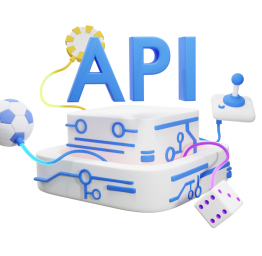 Website API
Integrieren Sie Sport- und Casino-Inhalte in Ihre Website mit unserer skalierbaren und praktischen Lösung
Mehr erfahren
Schlüsselfertige Lösung
Erhalten Sie eine vollwertige Plattform innerhalb von 48 Stunden - nutzen Sie die schlüsselfertige Lösung, um Ihr Geschäft zu erweitern
Mehr erfahren
HoGaming API Integration
Nuxgame is a live casino provider that offers games from HoGaming, which has two studios for games with real croupiers. The studios are very similar to offline facilities, so the player can fully experience the gaming atmosphere. Most products of HoGaming are available in HTML5 format, allowing them to run on smartphones and tablets.
One of Nuxgame offers is the slot solution that includes slots by HoGaming as well.
Almost of a half-century of experience in the industry;
Dozens of games with RNG and all popular live games;
Possibility to play in HD format on desktop and mobile devices;
Up to 5 various betting limits in games;
Online players can play at the same table with guests from offline land-based casinos.
HoGaming Games
All of the company's live games are broadcast from two studios: Grand Studio with 5 tables and Classic Studio with 15 tables.
These tables offer popular live games such as Baccarat, Roulette, Blackjack, Dragon Tiger, Sicbo and Multi-Tables. Besides, the provider offers slots and other RNG-based games developed by both HoGaming itself and EvoPlay, its partner.
Slot games
Slot games are one of the most popular branches of online gambling, and it is logical that HoGaming has not stayed aside and develops slot games on various themes.
Shark Bait
All the symbols and slot designs take the players into the underwater world, where the ocean is full of wild sharks, and they are just victims. Sharks reliably guard jewels that the player must collect to win.
Savannah Sunset
When choosing a Savannah Sunset machine for leisure, any user can take an exciting and profitable trip to Africa. The original theme of the slot will appeal too many, and there is plenty of sunlight on the playing field. There is a place for ancient trees, huge stones – the African landscape looks authentic. African ethnic ornaments are used in the design of symbols too. Thanks to all this, the traditional for many slots symbols in Savannah Sunset look interesting and attractive.
Game On
Slot machine from the manufacturer HoGaming is dedicated to the world's leading sports game – football. The slot is full of bright colors and positives that will make every player's game entertaining and exciting. The slot is especially recommended for sports fans.
Food Fest
Food-themed slots attract the attention of many players, and each provider tries to develop an original design and theme. It is safe to say that HoGaming did it well.
Sweet dreams
The sweet Dreams slot game is a real paradise for sweets connoisseurs. After all, the main theme is all kinds of sweets, which are also produced very realistically. The machine can please and frequent appearances of winning combinations that make the gameplay even more interesting.
Olympus
Myths and legends of ancient Greece – a great ground for artists who have created numerous paintings, statues, and writings based on legends of this land. It's not surprising that the developers of games for online casinos do not remain unaffected by this fascinating theme. The Olympus slot machine gives its users only positive emotions. This is achieved by the high percentage of wins, the high-quality design of the interface, and the interesting game symbols.
Live Dealer Games
Games with professional live dealers provide a truly unique presence effect. Players can enjoy the most popular gambling board games as if they were in a real offline casino.
Live Baccarat
Live Baccarat by HoGaming offers two modes: Traditional and No commission, as well as many additional bets and in-play forecasts that can help the player to make the right decision. Grand Studio and Classic Studio have 10 tables for Live Baccarat.
Classic studio tables also offer additional mini-games, and players have seven places to switch between. A single-user interface is also available. All baccarat games offer five different betting limits as well as a camera zoom feature that allows monitoring every movement of the dealer.
Live roulette
HoGaming's Live Roulette offers some extras that make classic European roulette even more exciting. Analytical data displayed in real-time in the form of assumptions about "hot", "cold" and the last 14 winning numbers can help players decide on the next action.
Two different cameras broadcast what happens at the tables. Players have the options to zoom in and out of the camera and monitor every step of the game.
Live blackjack
Ho Gaming offers a traditionally structured Live Blackjack in two different display modes and with seven tables available to registered online casino members. The number of seats does not limit the number of players who can participate in the game. Thanks to the "Bet Behind" option, players can bet on another person behind the table. When playing with the classic interface, users can run mini-games on the platform. Players can easily switch to a different interface or choose a different display mode – classic or large.
Live Dragon Tiger
HoGaming's Dragon Tiger is a classic interpretation of the traditional and very popular Asian card game based on the offline version with the basic betting scheme. Essentially, Dragon Tiger is a variant of baccarat with two cards played with a standard card game and three betting options – Dragon, Tiger, and Tie. In some cases, additional bets can be applied. In their version of the game, HoGaming decided to make it easy and did not add any additional extra bets, which will appeal to anyone who loves simple and "flawless" gameplay. The platform also includes advanced settings and the Multi-Table option typical to HoGaming software.
Live Sicbo
The Asian version of Grand Hazard and Chuck-a-Luck, Sicbo, is one of the most popular gambling games with amazing betting potential and simple rules. The HoGaming version includes built-in analytics software, a live chat option, and a multi-table developer option that allows the player to play at three tables simultaneously. With so many possible combinations that can make up three dice the rules of the game are quite scary for those who are new to Sicbo. However, once a player masters them, the betting process becomes as easy as possible. Thanks to the excellent design of HoGaming software, even absolute beginners can enjoy Sicbo in a short time. If they are confused by any of the betting options, explanations of the possible results of dice and bet types are displayed below the information icon.
Live Multi-Tables
The interface of each live casino HoGaming game depends on the model that has been chosen (one-user or many-users). Thanks to the multi-tabling feature, your clients can play at three tables at the same time.
RNG Games
This type of game is very popular due to a large number of different designs and game rules, which are suitable for both experienced players and beginners.
Elven Princesses
Elven Princesses is a slot with 5 reels and 30 lines created by EvoPlay for HoGaming. The game was developed in HTML5 and supports HD resolution. Players can dive into the world of magical elves and explore the ruins of ancient castles.
With a large number of bonuses, your players get up to seven free spins and turn three random symbols into Wilds. The below-average volatility means frequent payouts. The return to player rate of Elven Princesses is 95.41%.
Basketball
Basketball has a high-quality design and visualizes a real sports stadium. This RNG game is bright and interesting, and the additional options of the gameplay will give real pleasure and allow gamblers to immerse themselves in the unsurpassed atmosphere of a professional online basketball game.
Jewelry store
Jewelry store – luxurious design with a pleasant musical accompaniment. The main motive of the machine – a jewelry store and everything related to it: precious stones, rings, beads, inlaid with jewelry tiaras, and precious figures.
Legends of Ra
Legends of Ra is more than just a popular Egyptian-style video slot. HoGamings partner Evoplay's software is full of premium bonuses. The design may sometimes look caricature, but it looks great – desert and temples, pyramids, and palm trees, accompanied by light oriental music, make the player feel like a real seeker of ancient treasures.
Fruit burst
The Fruit Burst slot machine from HoGaming has a simple design that reminds of the past so that nostalgic emotions are there for everyone during the game. Remember the classics, enjoy exciting gameplay, and hit a big jackpot.
The Emperor's Tomb
In the Emperor's Tomb slot machine, all elements are made in the style of ancient China. The atmospheric music of the Heavenly Kingdom, the archaic architecture of the temple with treasures and thematic symbols let players feel the atmosphere of charming Asia.